Spend 3 days in Seville (2024 Guide) → Get the Inside Scoop!
Are you seeking an itinerary for the perfect 3 days in Seville, Spain? Stop your search! I am here to tell you I have the perfect Seville itinerary for your visit to this beautiful city!
Seville is my former university city! I lived there for a few years, so I know it like the back of my hand, and I have many hidden gems to recommend to you, as well as all the attractions the city is known for!
The article is arranged per day, and the days are divided into mornings and afternoons. In the end, I have a bonus with 4 incredible day trips from Seville and amazing accommodations to stay when visiting Seville.
Are you ready to check out the ultimate 3 days in Seville Itinerary?
If you are in a hurry
If you need to book tours and accommodations fast and don't have much time to read the whole article, here you have the best tours for your 3 days in Seville and the best accommodations.
Here are the main things to book in advance:
And here are the best hotels: Hotel Casa Palacio Don Ramón (luxury), Hotel Giralda Center (mid-range), AC Hotel Sevilla (budget)
Day 1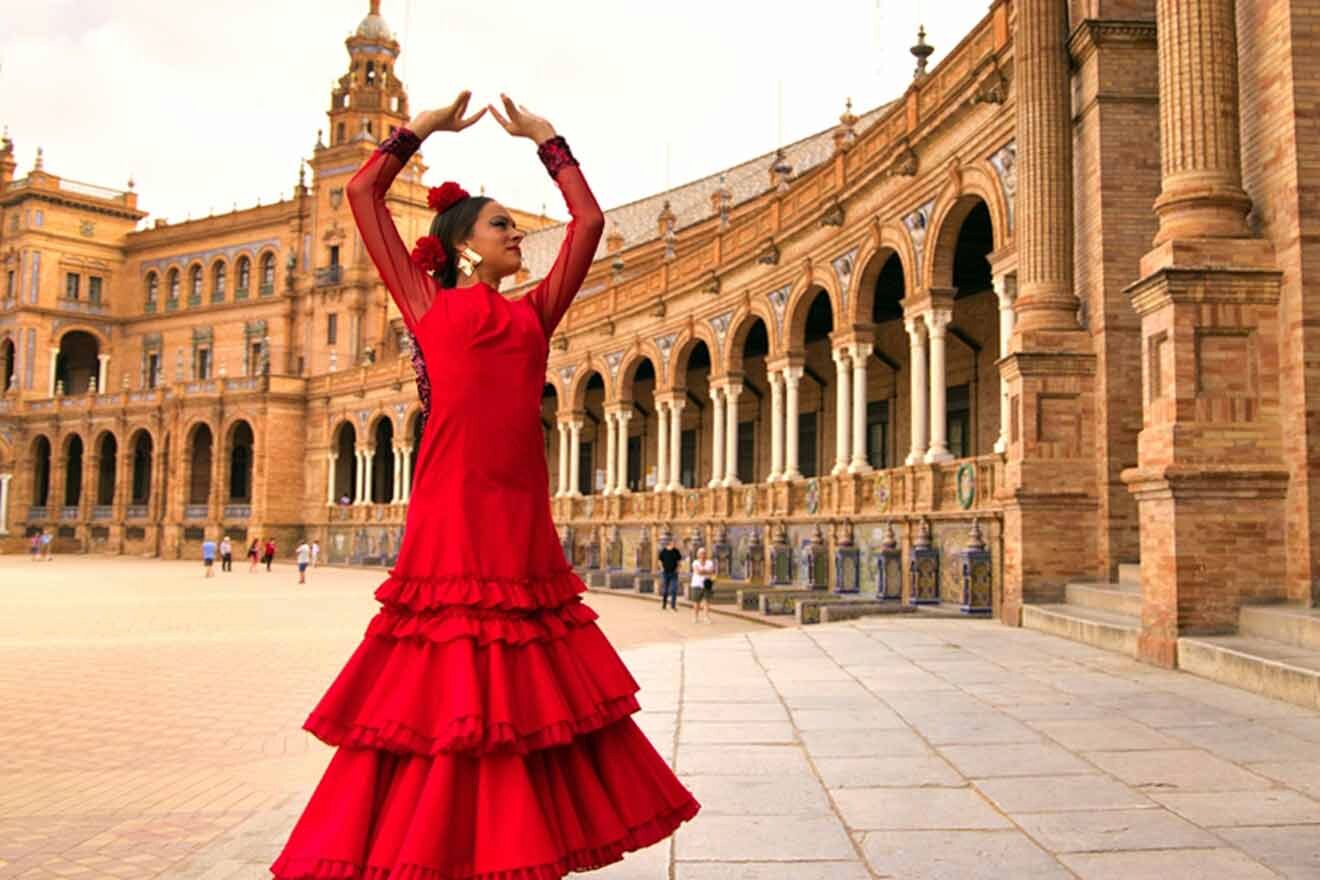 Seville is a very walkable city; the longest you will have to walk to an attraction is 30 minutes.
On day 1, you can visit the main sites, like Catedral de Sevilla, taste delicious tapas at bustling tapas bars in the old town, and wander around the vibrant city center!
PRO TIP: If you are visiting in the summer, especially in August, keep hydrated. Seville is a very hot city in comparison to other European cities. Even locals stay indoors during the hot afternoons for siesta!
Morning
1. Visit the iconic Royal Alcazar of Seville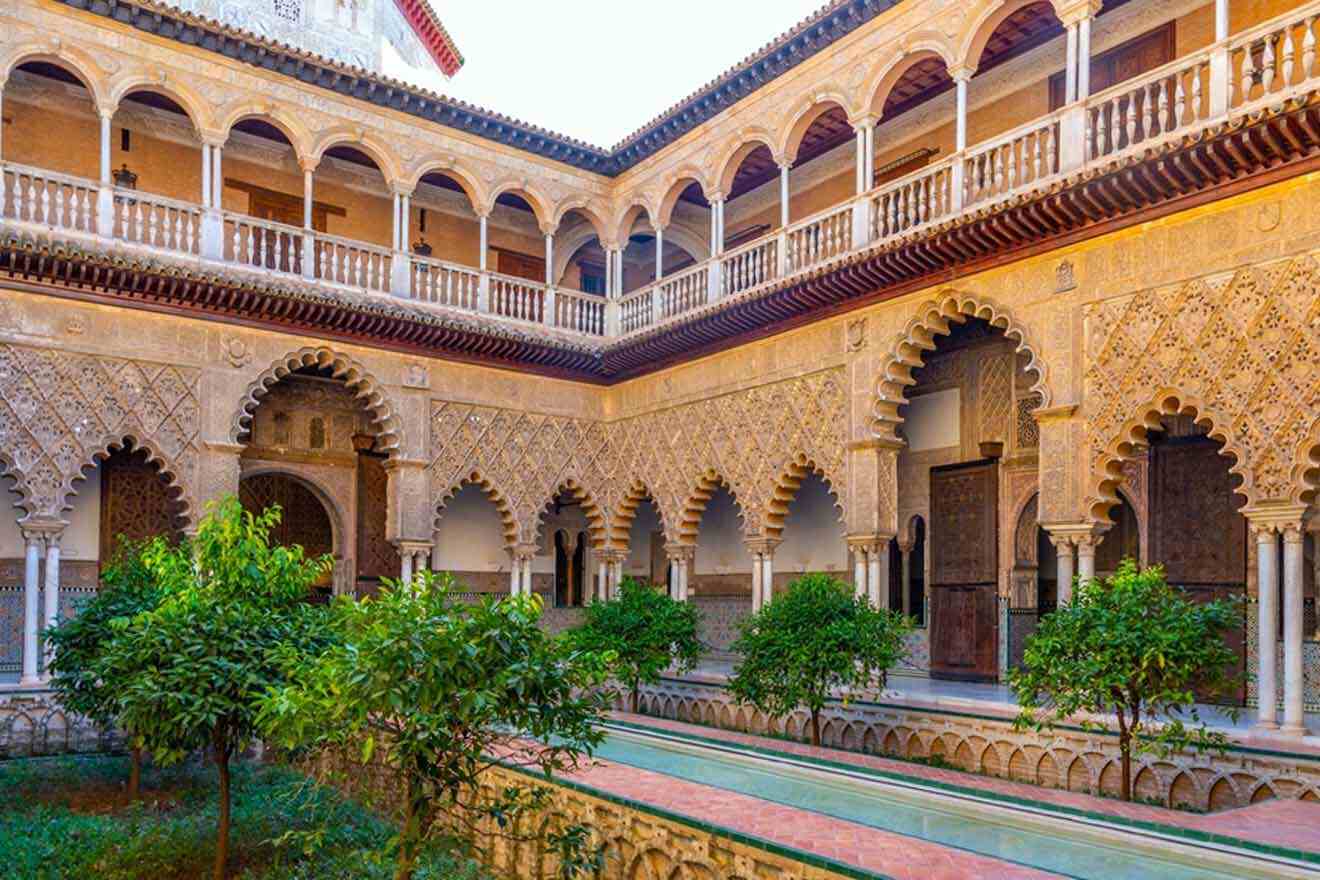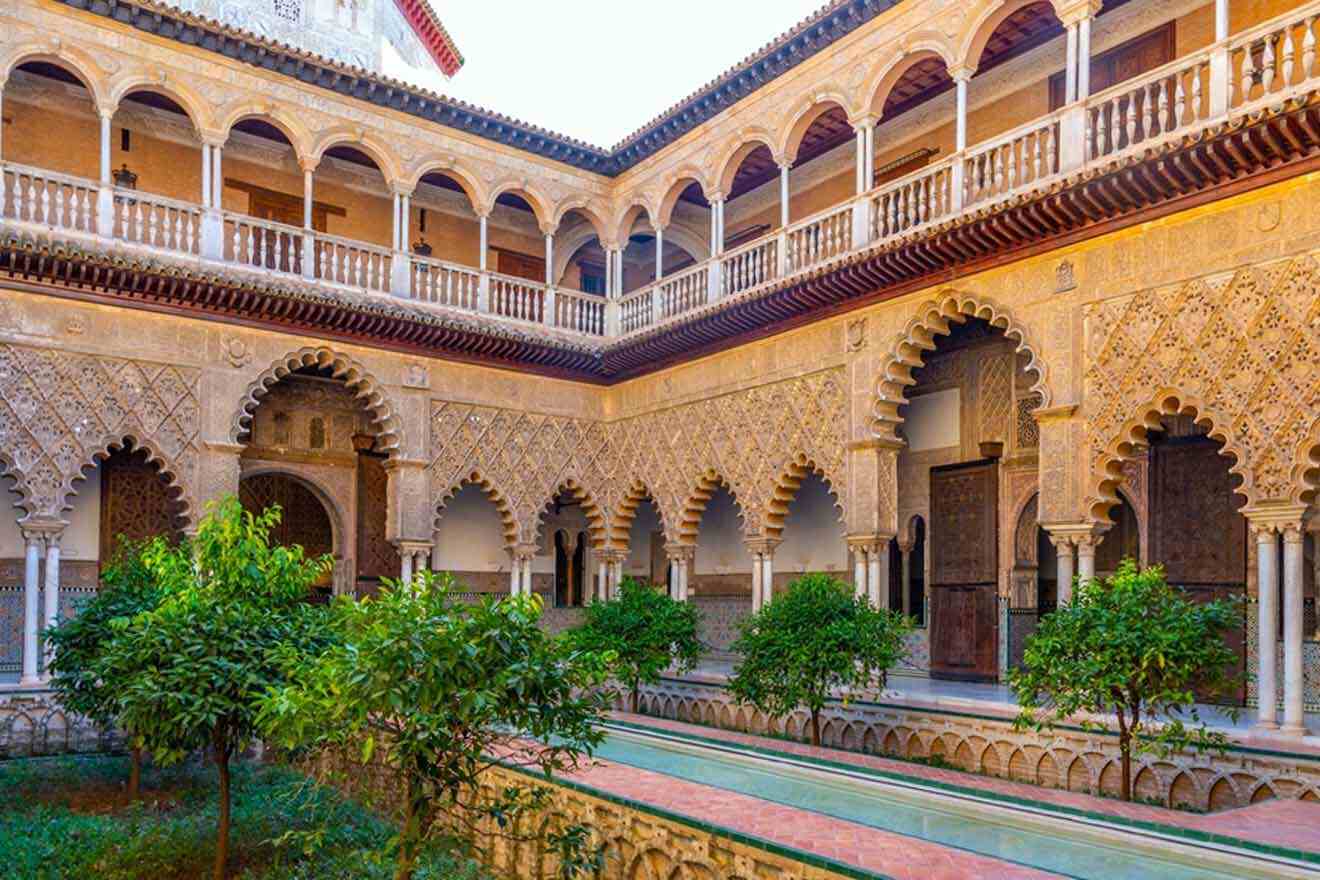 Wander through the enchanting Real Alcázar de Sevilla! This UNESCO World Heritage site is an absolute must in the city. I have been to this Royal Palace too many times to count them, and I am in awe every time.
Game of Thrones was shot at Alcazar! Some rooms were the Baths of Maria Padilla, the Ambassador's Hall, and the gardens!
This palace was first used as a Muslim fortress and home palace. This is the reason why you can admire the stunning Mudejar style. The Palace features many rooms with patios and precious gardens where you might see more than one peacock!
The exit to the Alcázar takes you to the Patio de Banderas (it's a public patio). Here, you can see a beautiful garden with orange trees and a stand of local artists selling their paintings and crafts. Behind the Alcázar, you can walk around the gardens of Murillo. There, you might even be able to witness a passionate flamenco performance!
You can buy the tickets for the Alcazar on the official website. However, I highly recommend you take this tour. You will learn far more about the site thanks to your tour guide, and you will skip the entrance line, a line that is always long, even during the low season.
PRICE: from €35 for the tour per person, from €15 for the entrance ticket per person.
Book your Alcázar guided tour
2. Visit Seville Cathedral & climb the Giralda Tower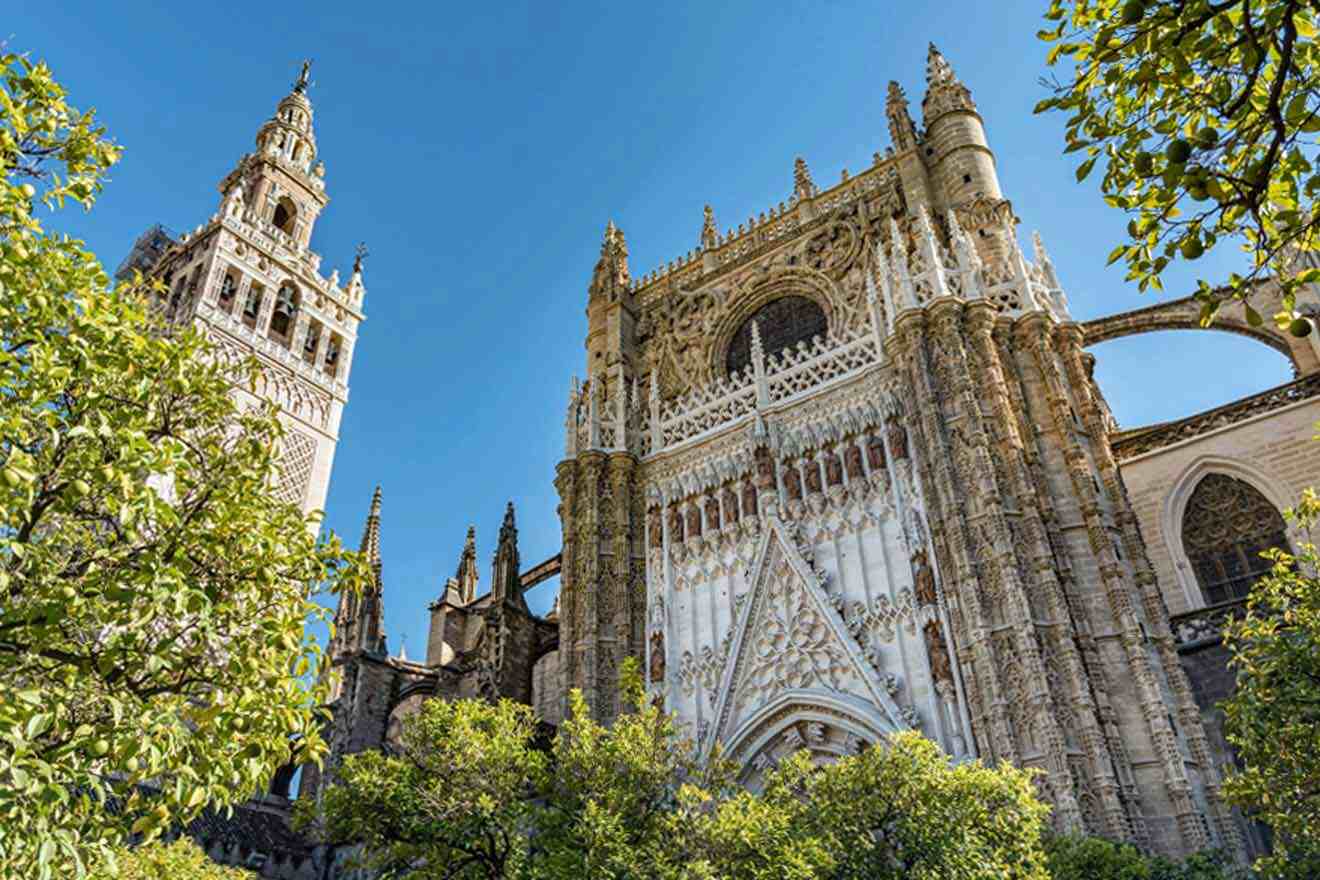 So, once you leave the Alcazar, you go through Patio de Banderas. After you cross a big fortress door, you will see La Giralda Bell Tower! Which is an icon of the city! Get to the top and admire the unique city views from there.
Seville Cathedral is the largest Gothic Cathedral in the world!
Wander around the Catedral de Sevilla and admire all the art and architecture of the place. Don't forget to visit the tomb of Christopher Columbus inside the Cathedral! There is a cute indoor patio at the site where you can sit and relax under orange trees!
You can get Seville Cathedral and La Girlanda tickets on the official website. However, I highly recommend you get the guided tour, including the entrance ticket. This way, you will get a deep understanding of the site. And last but not least, you will skip the long lines!
PRICE: from €10 entrance ticket per person, from €15 guided tour with a ticket per person
Get your cathedral and Giralda tour
3. Engage in a tapas-hopping food tour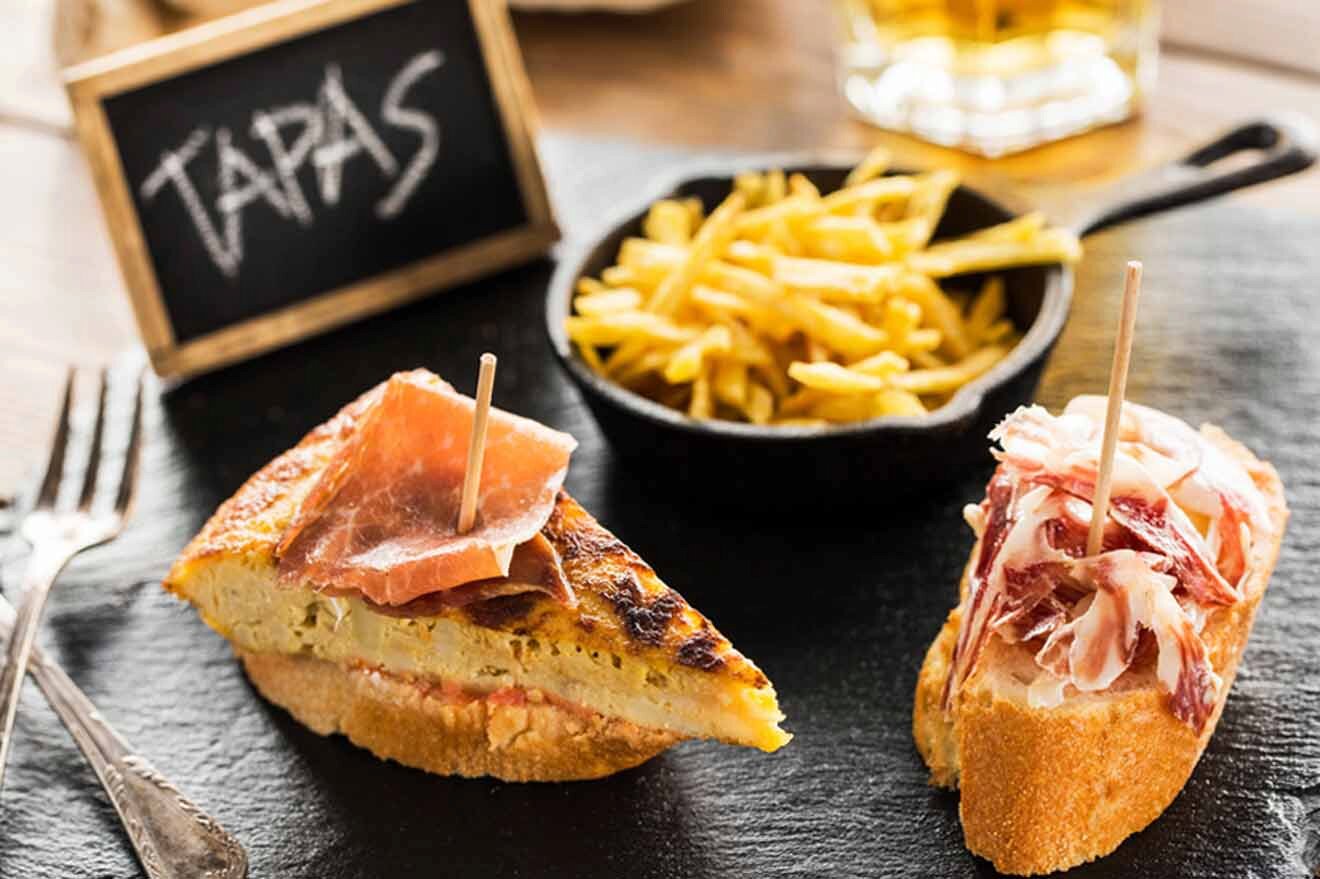 After seeing all these main sights, you will be hungry! So, I highly suggest you join a food tour! A local will take you to the best restaurants in the city to try classic tapas!
Spaniards are very proud of their cuisine and the history behind it. So join the tour and learn everything about the dishes and their significance! During this walking tour, you will try 10 different tapas dishes and 4 wines (or beers!).
You will have an incredible traditional lunch and see hidden parts of the city only a local knows! Also, take note of the restaurants to revisit!
PRICE: from €70 per person
Book your skip the line tickets
Afternoon
1. Visit the Royal Tobacco Factory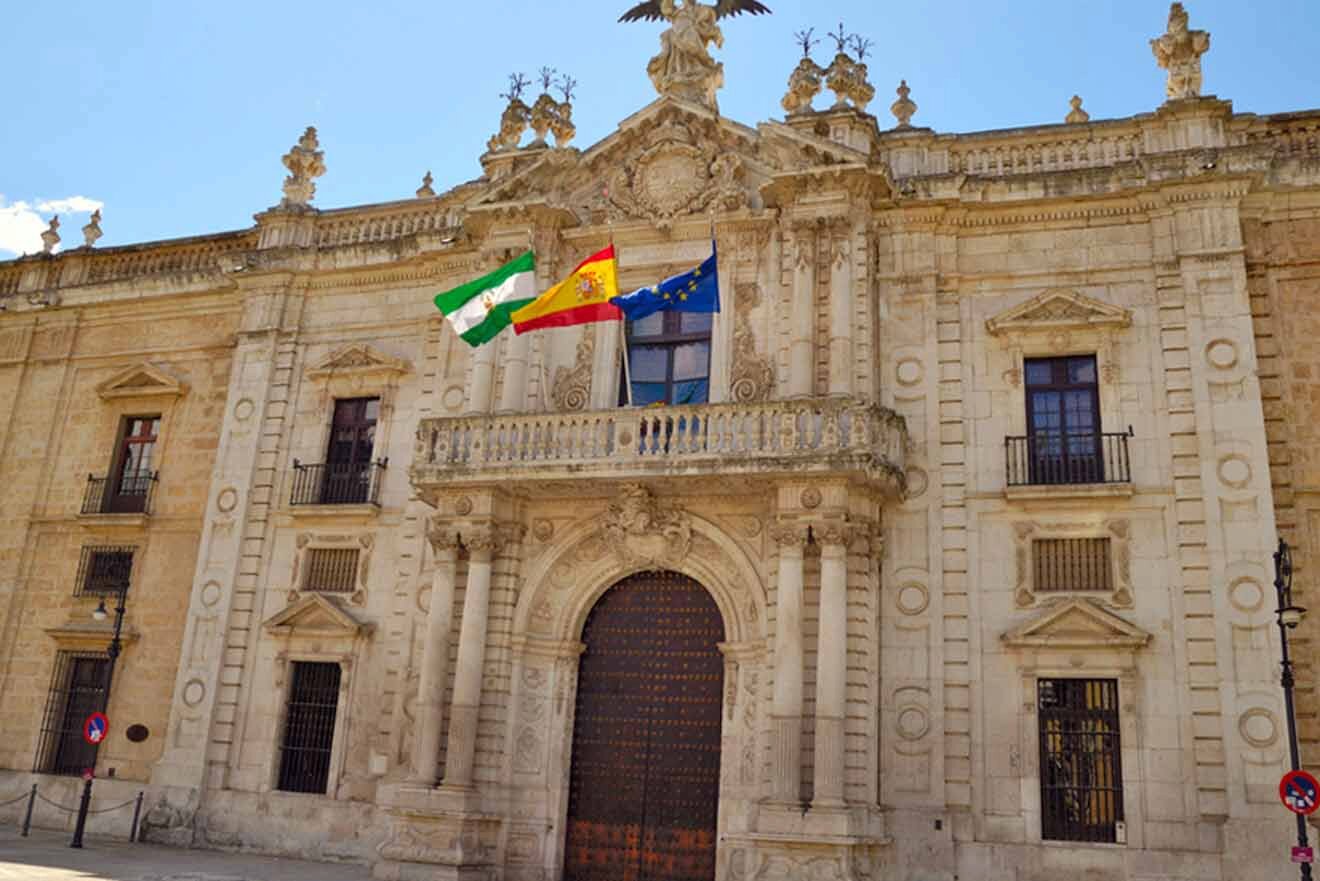 I highly recommend you stop by the Real Fábrica de Tabacos when visiting this wonderful city. This was the first Tobacco factory that opened in the European cities. It is one of the most important buildings of the 18th century in the city.
Since 1950, this factory has been the home of the Universidad de Sevilla. You can visit it and see its cute patios and admire its architecture.
La Real Fábrica de Tabacos is in Calle San Fernando , which is within walking distance from La Giralda and Paseo de las Delicias.
PRICE: free
2. Get lost in the narrow streets of Barrio Santa Cruz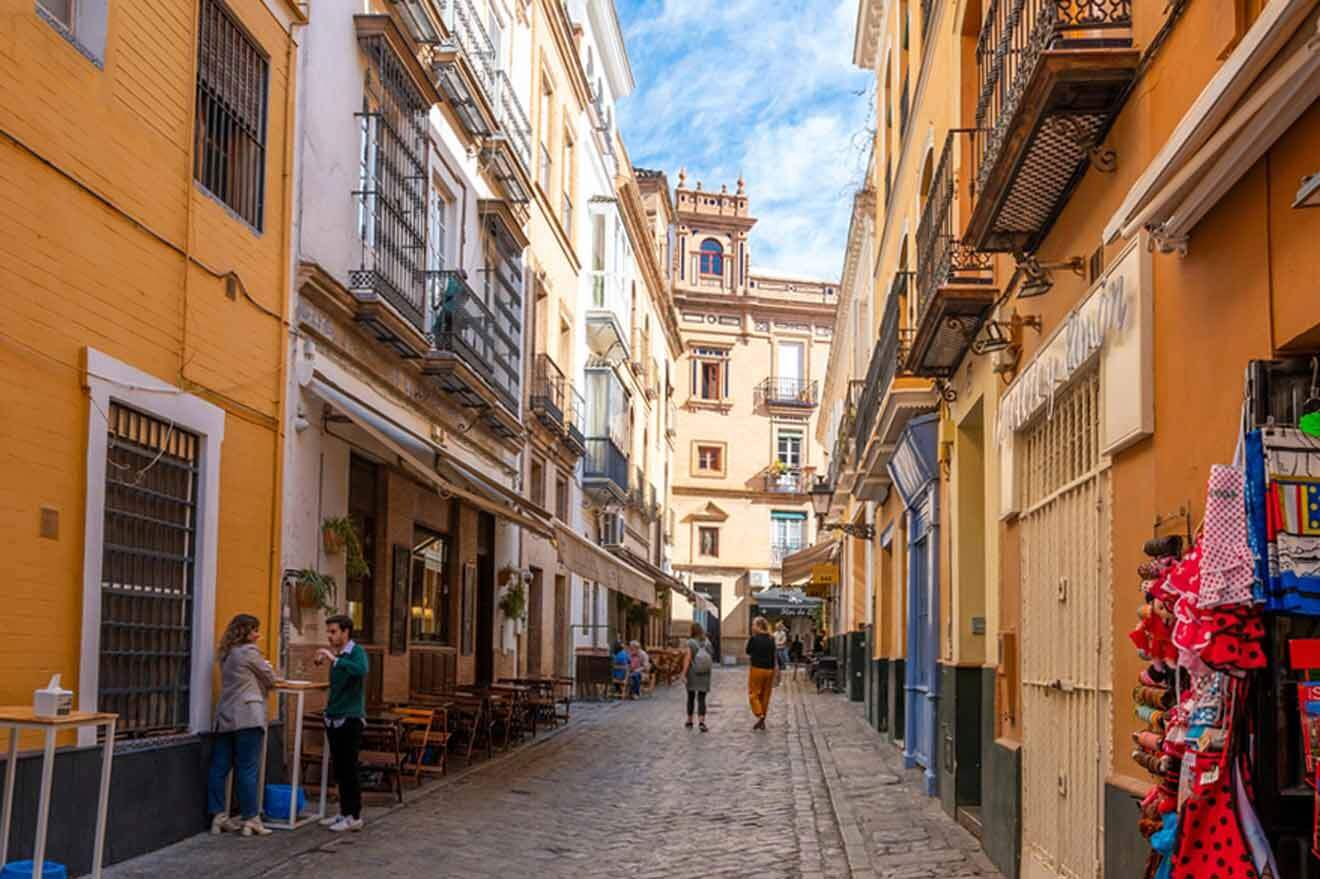 Stroll the cobbled streets of the Santa Cruz neighborhood, and wander through the charming Jewish Quarter! This area is probably the most visited by travelers. Most of the main landmarks are steps away from the area, including the Alcázar and Cathedral!
And it is surrounded by traditional bodeguitas, which are tapas bars! Savor churros and chocolate at a local café.
For example, I recommend checking out Churrería San Pablo. You can venture even further and visit the Orange Tree Sevilla to buy traditional orange wine and other orange products at this cute craft shop!
Stop by the EME roof terrace, one of the most iconic in the old town. Especially at night if you want to relish an evening at a local rooftop bar. I am pretty sure all the locals have been there at least once in their lives, so you'll be in good company!
To get the most out of this area, I highly recommend you join a free walking tour of Seville's highlights! This tour will tell you all the mysteries and secrets of the Santa Cruz neighborhood and the historic Jewish Quarter. The tour is free, and it is based on tips.
PRICE: free
Get your free walking tour
3. Visit the modern Metropol Parasol "Las Setas"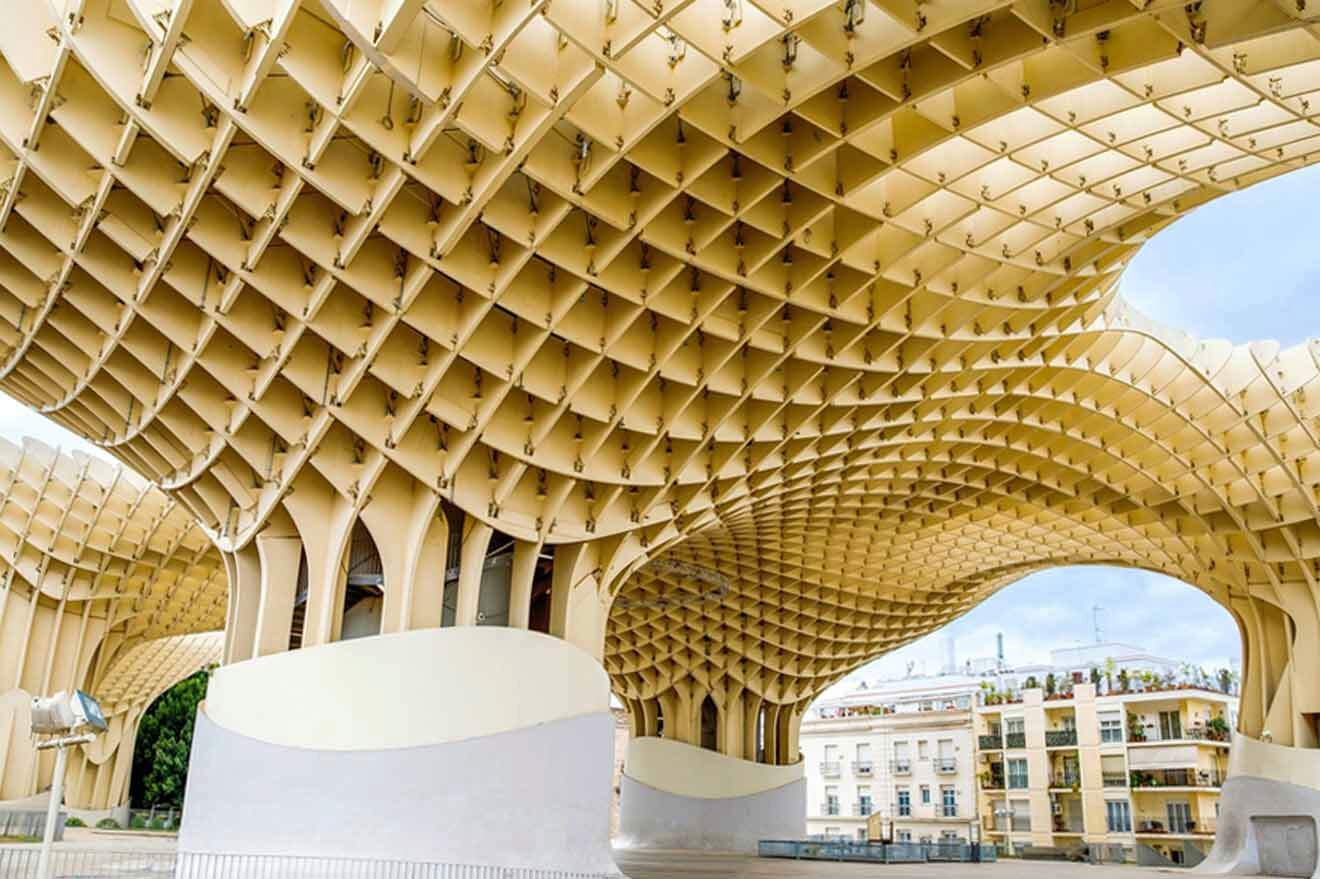 End the first day in Seville visiting las Setas in Plaza de la Encarnación! This is a mushroom wooden structure in the city centre that features movie-like views!
This is the perfect place to take elite sunset pictures! After visiting the area, you can stop by a tapas bar at the foot of the structure.
Las Setas de Sevilla is the world's largest wooden structure, and it was made by the architect Jürgen Mayer.
You can buy your entrance to Las Setas online on their official website.
PRICE: from €15 per person
Day 2
On day 2, we keep going with the most important and iconic landmarks of the city! Plus some amazing stops, for example, a flamenco show!
Morning
1. Experience the vibrant atmosphere of Plaza de España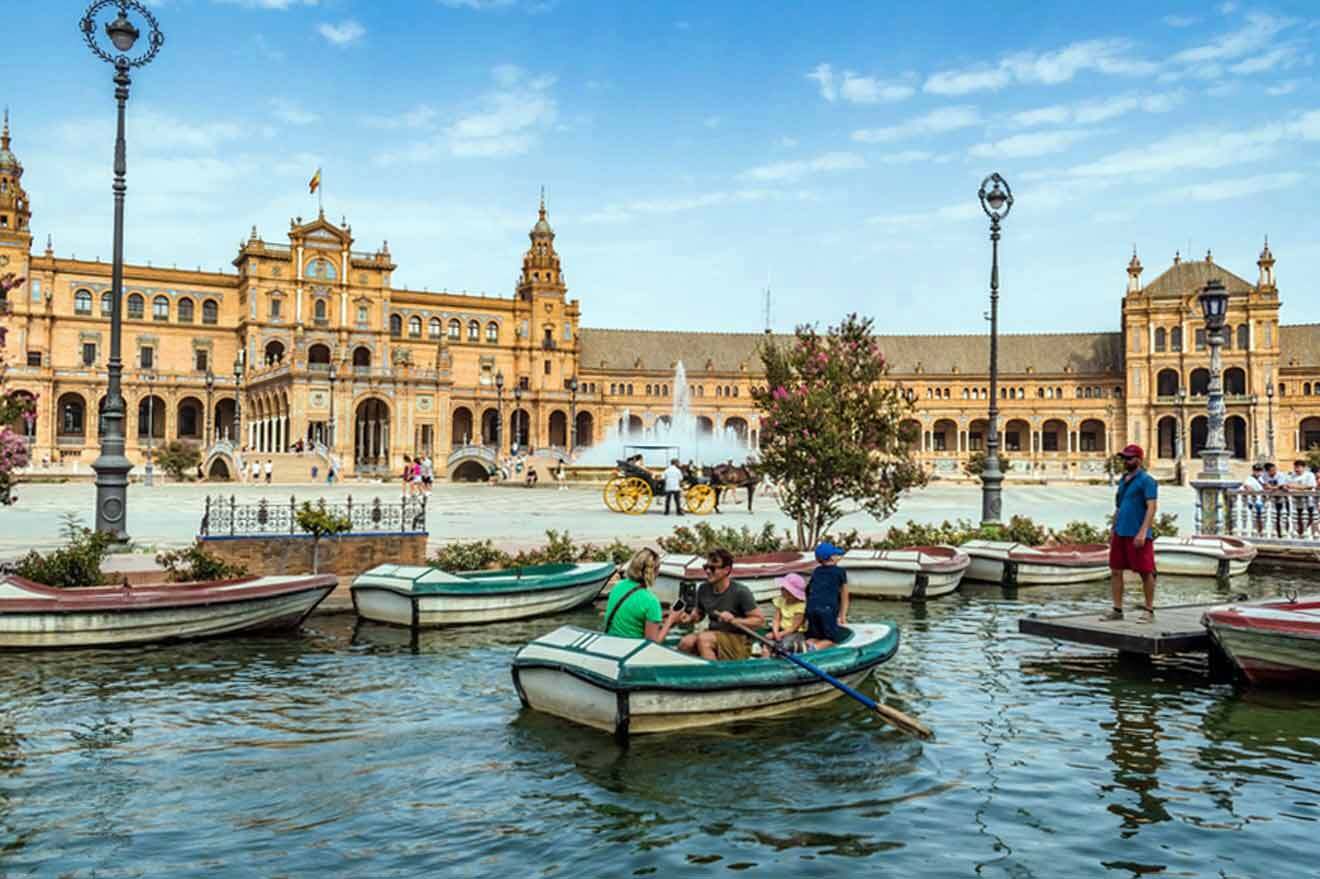 Explore Plaza de España in Maria Luisa Park! The first time I visited Plaza de España, I couldn't believe my eyes! This stunning square was built in 1928 for the Ibero-American Exposition the following year.
Did you know that a Star Wars and Game of Thrones scene was filmed in Plaza de España?
All the buildings of Plaza de España feature a Moorish style mixed with baroque and Renaissance, which are the core of Spanish architecture. Sometimes, there are flamenco dancers in the square, so you can delight in a sunset flamenco dance on the street!
If you want to make the best of your morning, book this small group guided walking tour. It is a great way to see a lot of the main attractions in the city in a short time while learning about it. One of the main stops is Plaza de España.
TOUR PRICE: from €15 per person
Book your guided walking tour
2. Have a relaxing picnic at Parque de Maria Luisa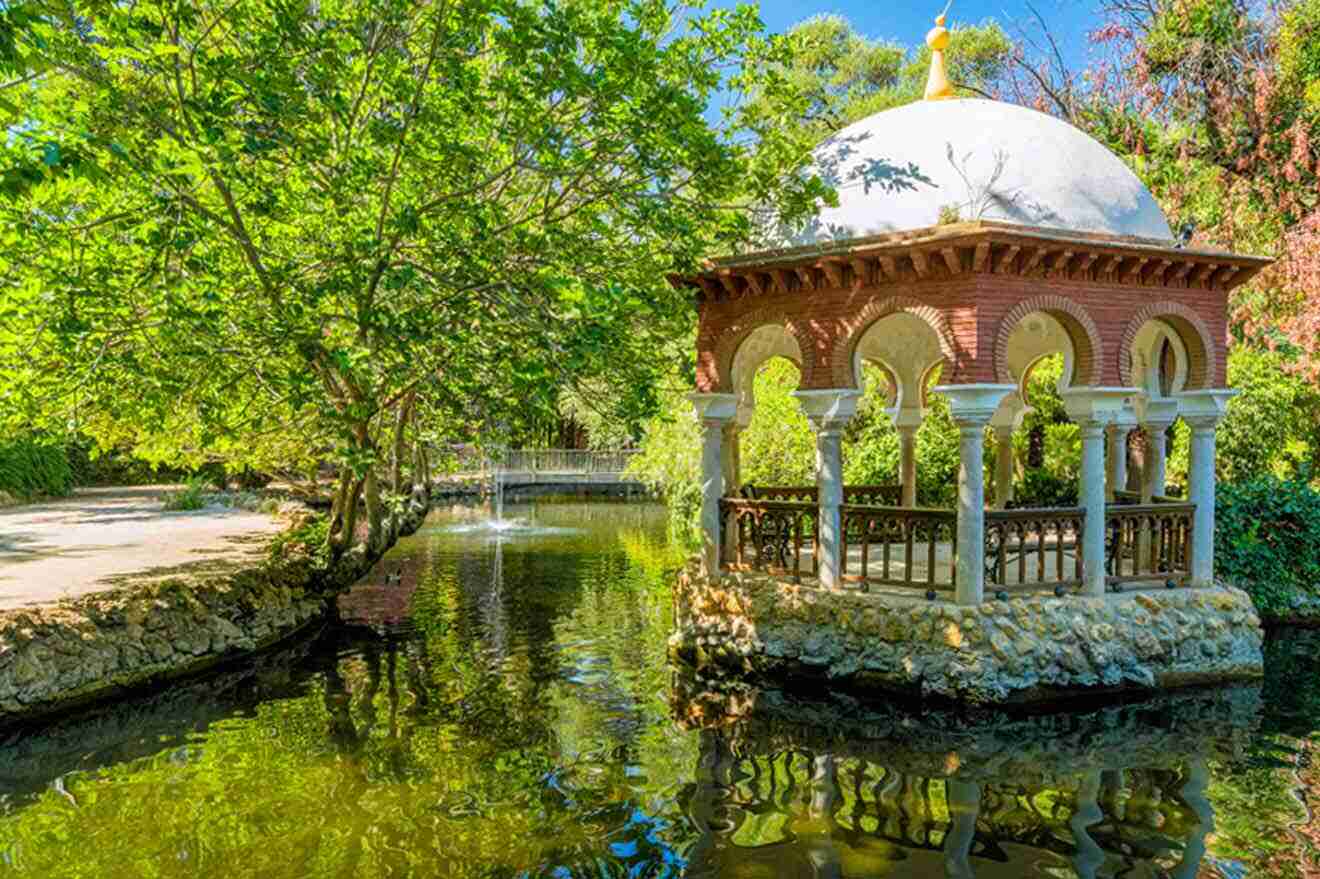 I highly recommend wandering through the gardens of the Palace of San Telmo!
Did you know Parque de María Luisa used to be the Royal Garden of the Dukes of Montpensier in Palace San Telmo? This was until Princess María Luisa donated it to the city of Seville in 1893.
This park is the biggest green lung in the city! It is a great place to go for a picnic or simply walk around and enjoy the Andalusian patios' beauty. You can find a few museums here, for example, the Archaeological Museum and the Museum of Popular Arts and Traditions.
If you want to see all the park's hidden gems, I recommend this guided walking tour. It will take you to the main sites of the park and tell you the stories behind the landmarks!
NOTE: entrance to the park is 100% free and can be visited without a tour.
TOUR PRICE: from €10 per person
Book your Maria Luisa tour
3. Marvel at the Palacio de las Dueñas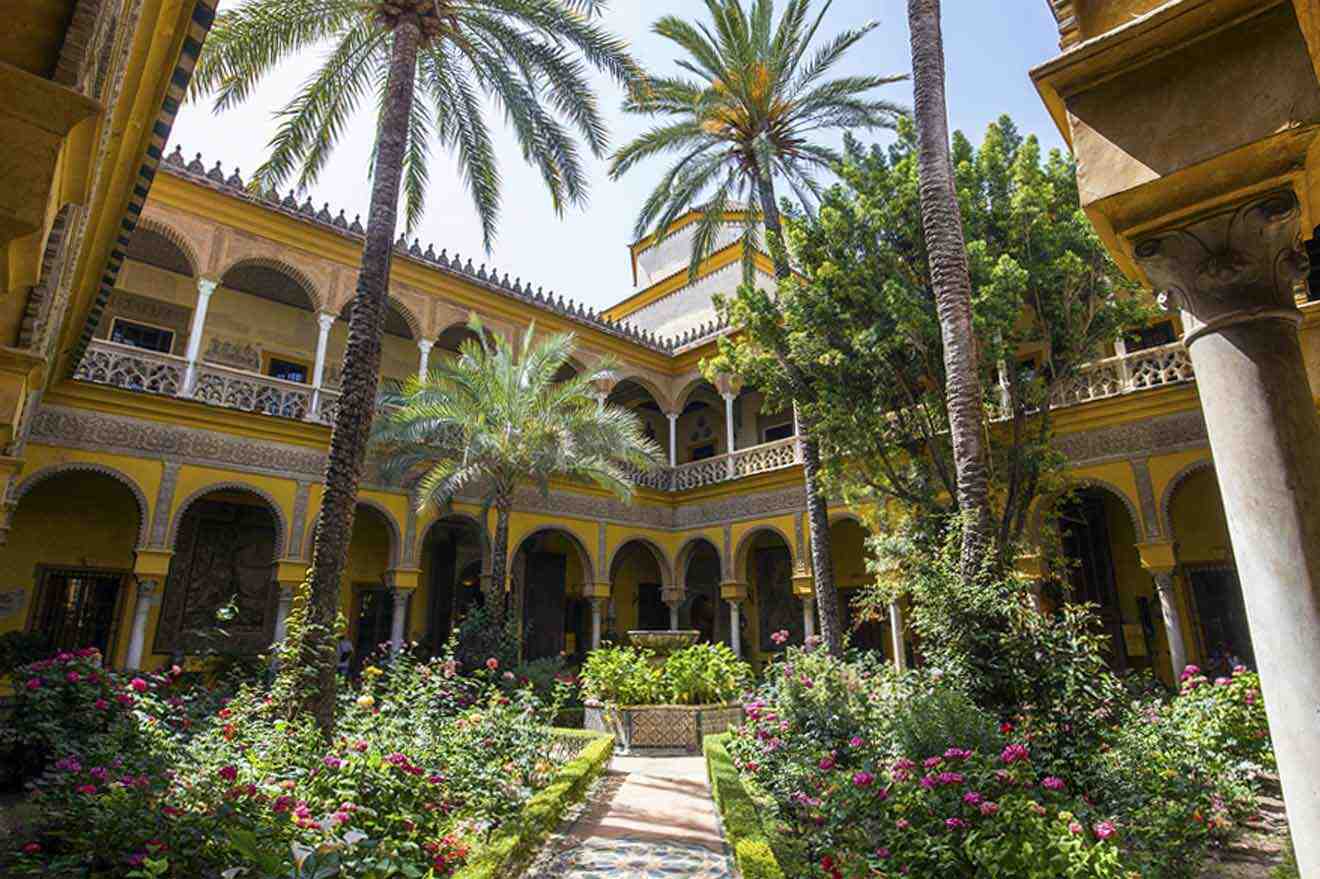 This beautiful palace used to be the home of the Dukes of Alba. It was built in the 15th century, and like most of the landmarks in the city, it features many architectural styles! From the Renaissance, Gothic touches, and Moorish style!
Nowadays, it functions as a house museum where you can see paintings and relics from its past. Visitors can walk around the different sections of the house and take in all the beauty of the place!
You can buy the tickets on the official site. But I suggest you buy the guided audio tour if you want value for money!
PRICE: from €12 palace audio guide tour with entrance, from €12 ticket entrance 
Book your guided palace tour
Afternoon
1. Opt for a bike tour through historic districts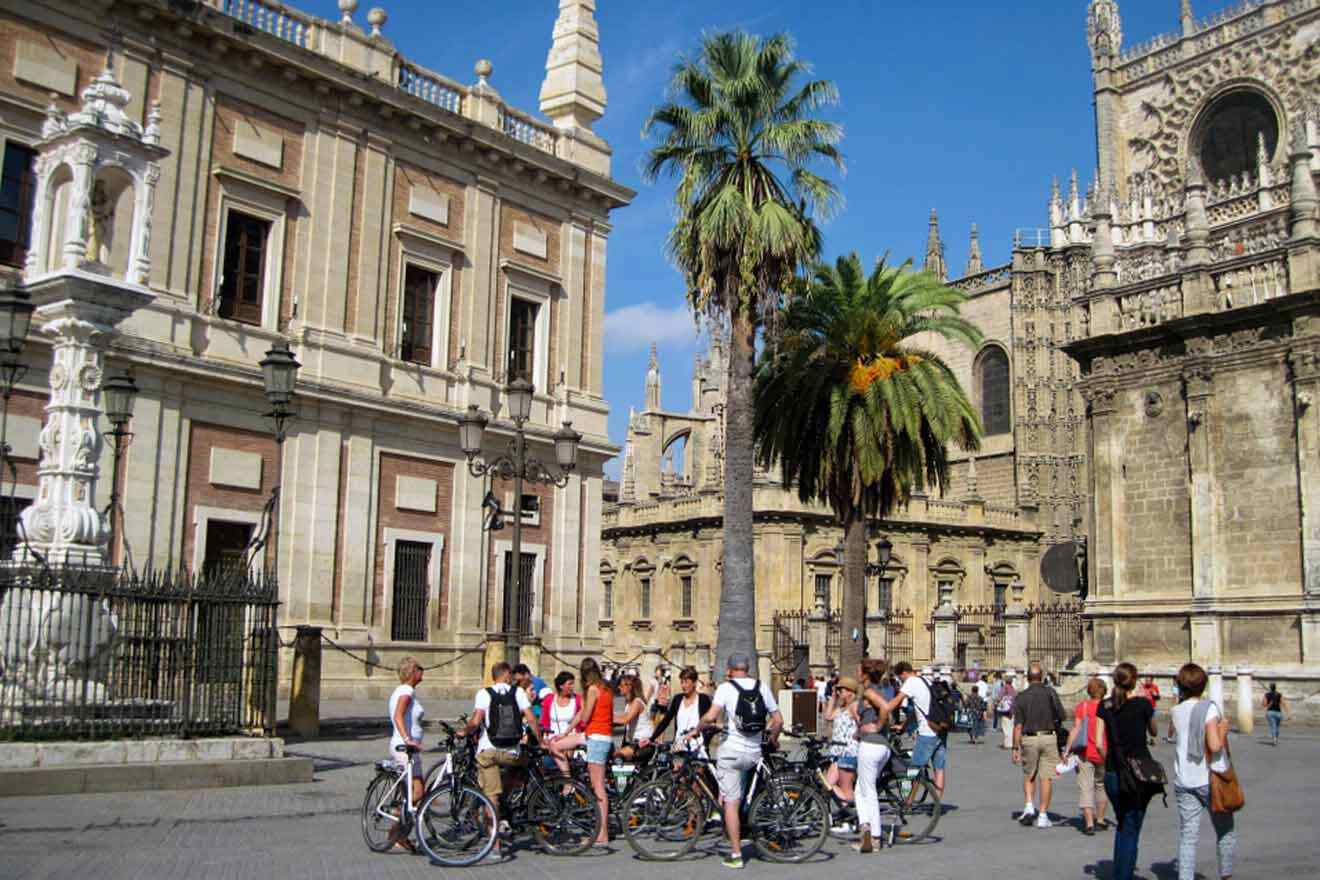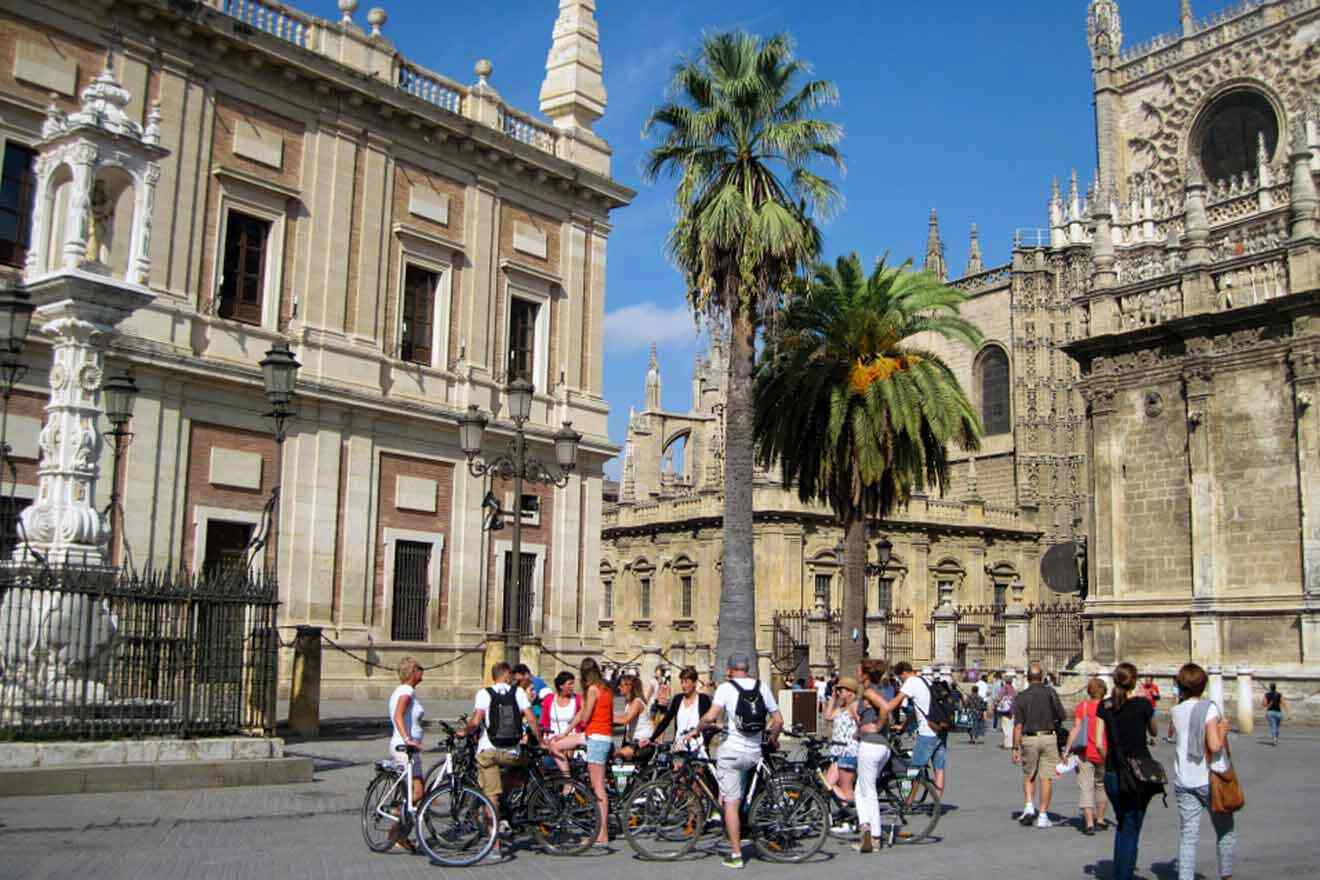 Dive into history with this bike tour! If you want to see most of the city in a fun and fast way, what better than a bike tour?
A knowledgeable tour guide will take you on this exciting bike ride to the most iconic attractions and landmarks. You should take this tour because in around 3 hours you will learn everything there is to know about the city and its history!
The tour starts at Seville Cathedral, and after 10 amazing stops, it will end in Plaza de America!
PRICE: from €30 per person
Book your bike tour
2. Relish views from the Torre del Oro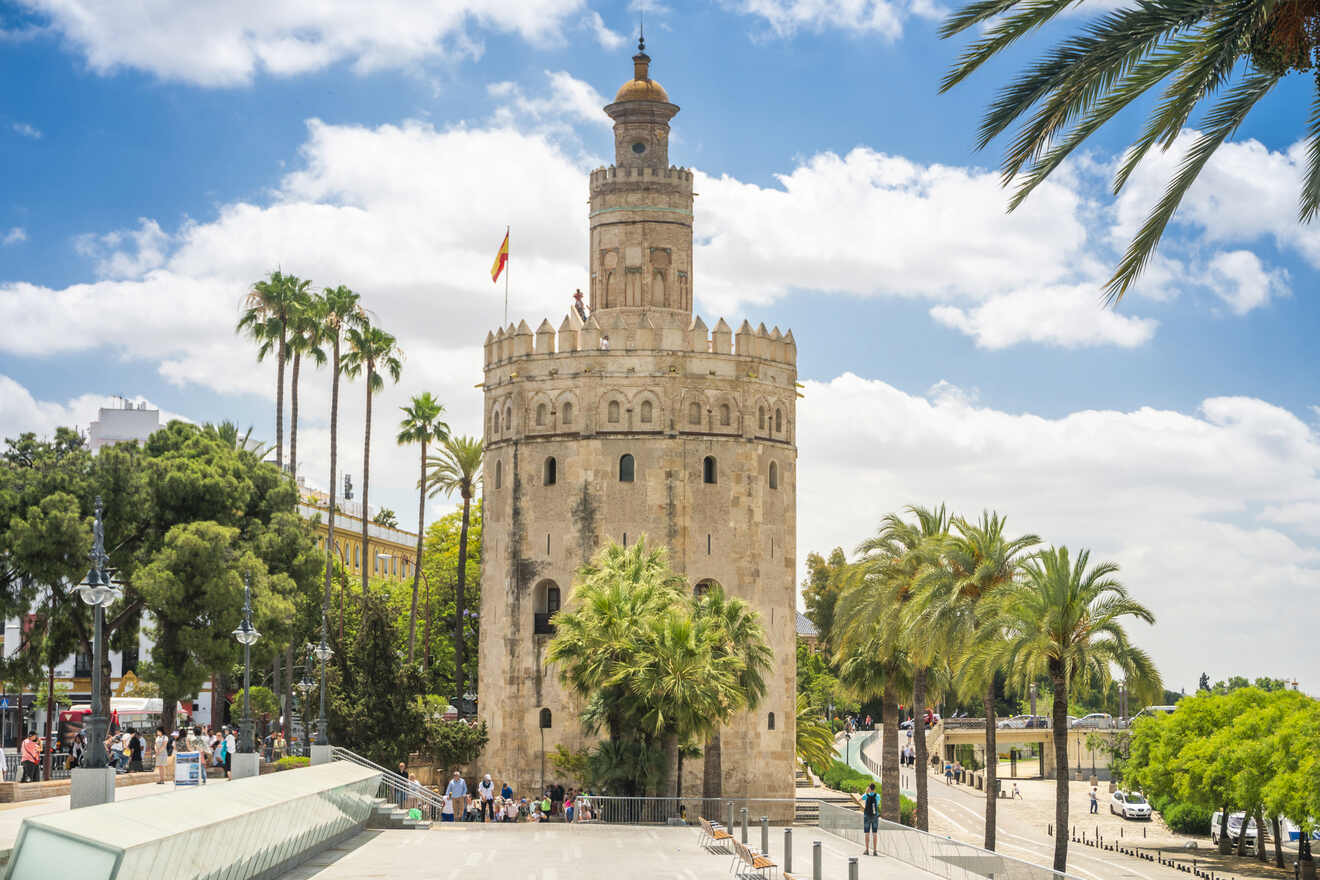 This is another iconic sight of Seville. Torre del Oro used to be part of the Moorish city wall. As a defensive tower, people estimate it dates from the 13th century. You can visit the tower now, as it functions as a Naval museum. And, of course, it features panoramic views!
After the museum, enjoy a picnic in the parks along the river! There are many green areas alongside the Guadalquivir River, where people sit to relax and enjoy the views of Triana with a treat!
NOTE: entrance to the Torre del Oro Naval Museum is free, but at the entrance, they hope you will give a €3 voluntary contribution.
If you want to do as the locals do, then after you've seen the fortress I recommend a Kayak session at Guadalquivir! It is super common to see locals engaging in kayak races or paddle boarding here. The tour will provide everything you need for a safe 2-hour kayak adventure.
TOUR PRICE: from €20 per person
Book your Seville kayak rental
3. Delight in Seville's nightlife at a Flamenco Show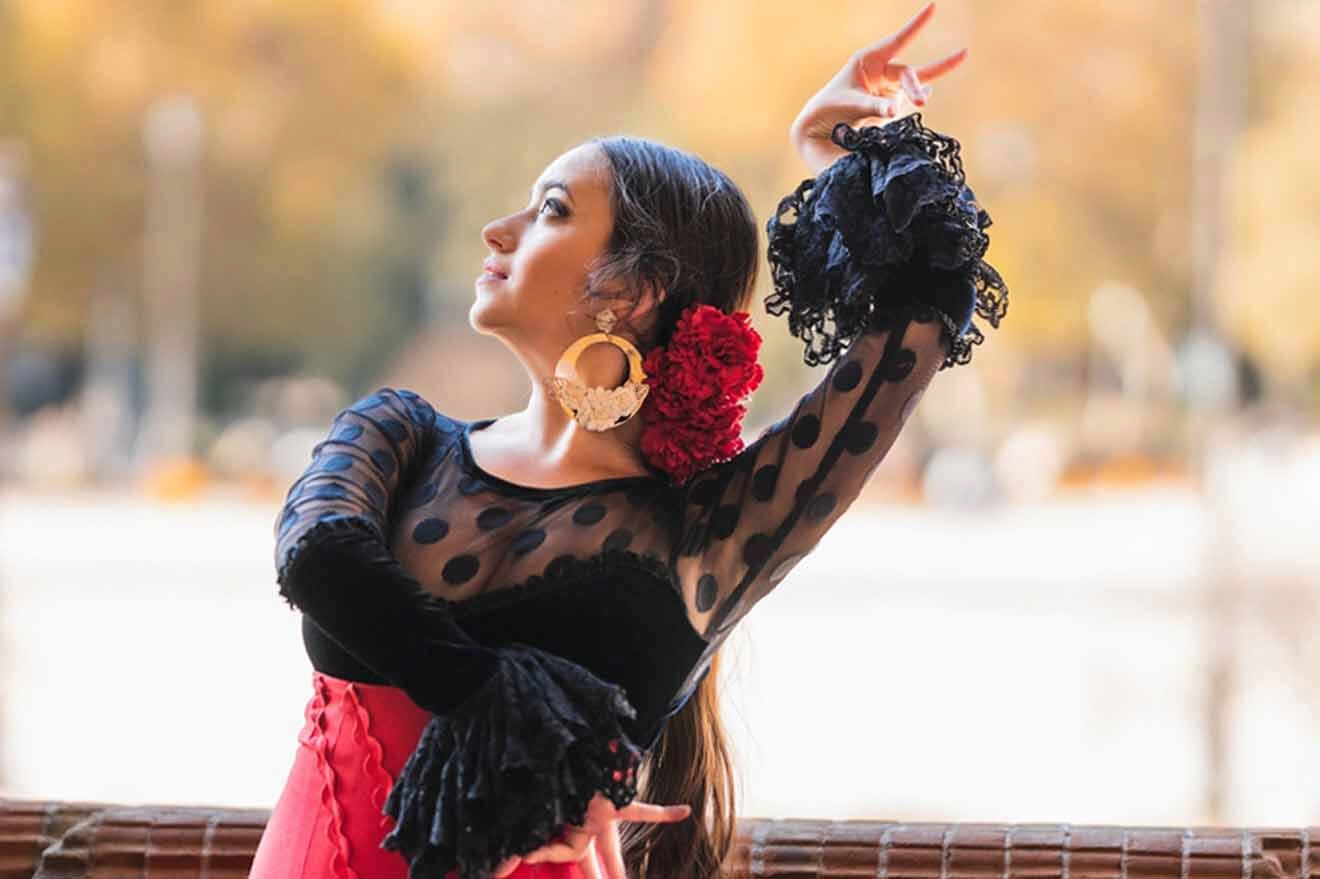 Enjoy flamenco performances in the Museo del Baile Flamenco!
Flamenco is part of Seville's pride! So, during your visit, you have to see all the passion and craft that is involved in this art.
This show will take place at the Museo del Baile Flamenco's courtyard. It was built in the 18th century. For an hour, you will be experiencing an intimate evening where a flamenco dancer will leave everything on stage while an incredible band of musicians plays.
PRICE: from €25 per person
Book your flamenco show
Day 3
The last day in the city needs to be special, so I gathered some hidden gems of the city so you can think about these lovely memories on your way back to Seville Airport or Plaza de Armas Station!
Morning
1. Dive into history at the Hospital de los Venerables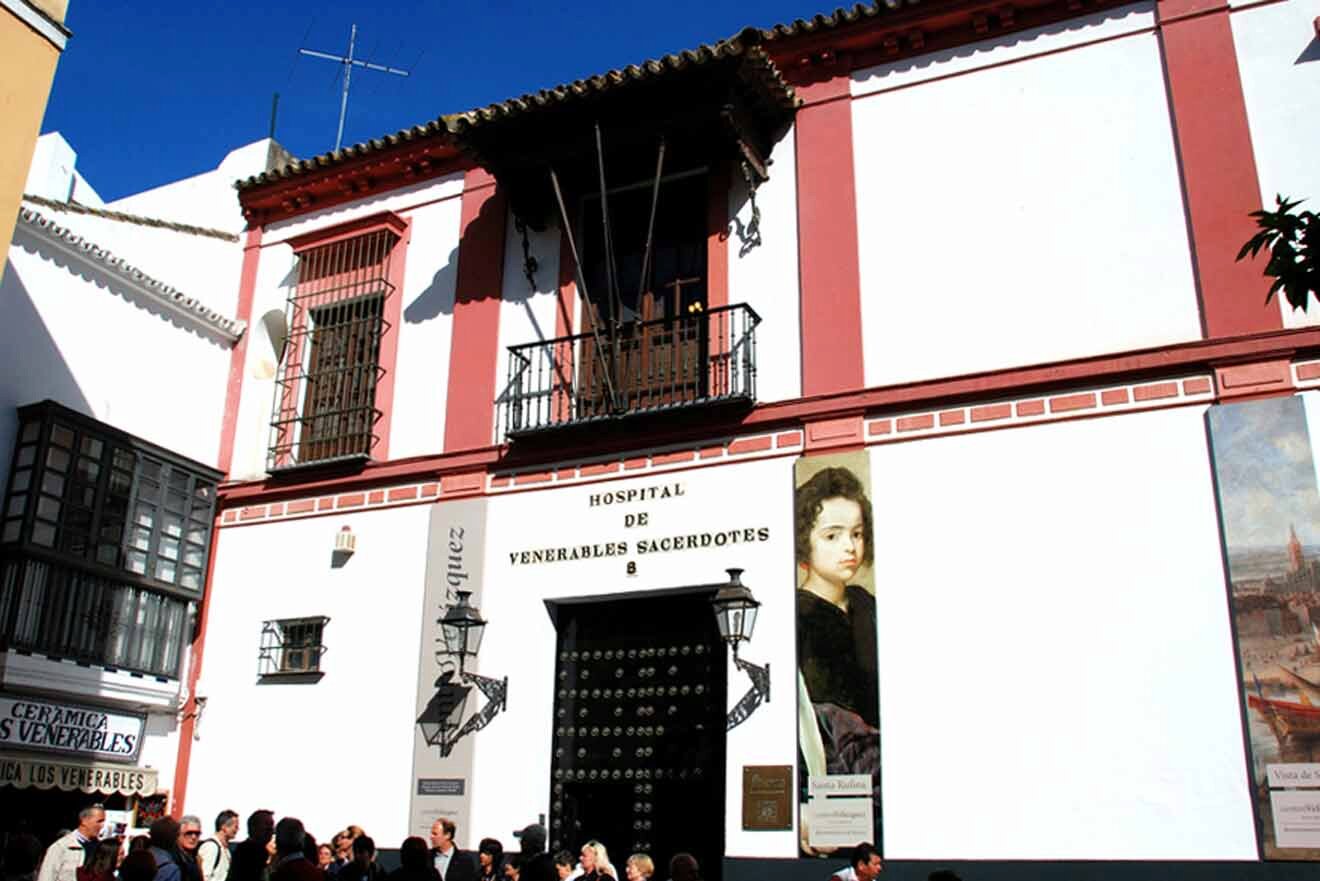 Hospital de los Venerables was built in the 17th century and features a unique baroque style. Back in the day, it was used as a home for priests.
During your visit, you will see a church that has beautiful frescoes on the ceiling and a traditional Andalusian patio. You'll also see the Diego Velazquez Center, which is the main use of the building nowadays. Here, you can admire the collection of paintings made by a Sevillian artist.
PRICE: from €12 per person
Book your audio-guided entrance ticket
2. Discover the Mudéjar architecture of Pilate's House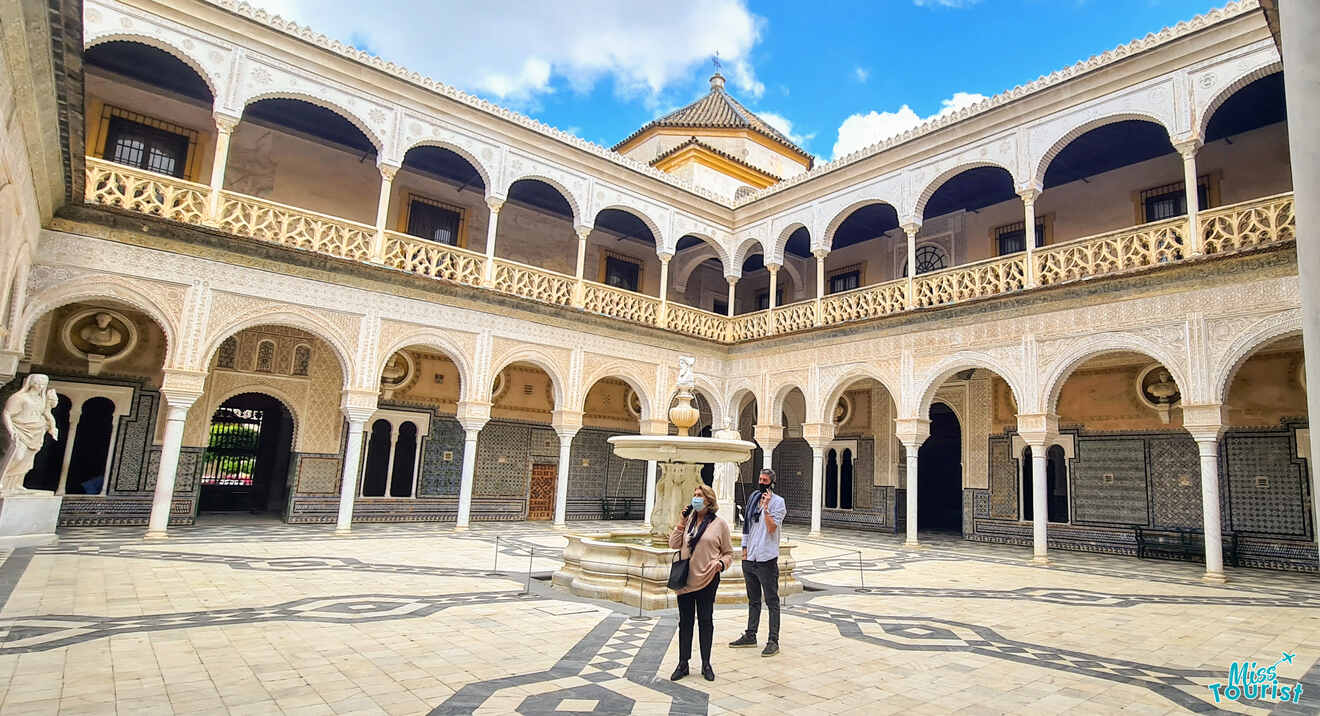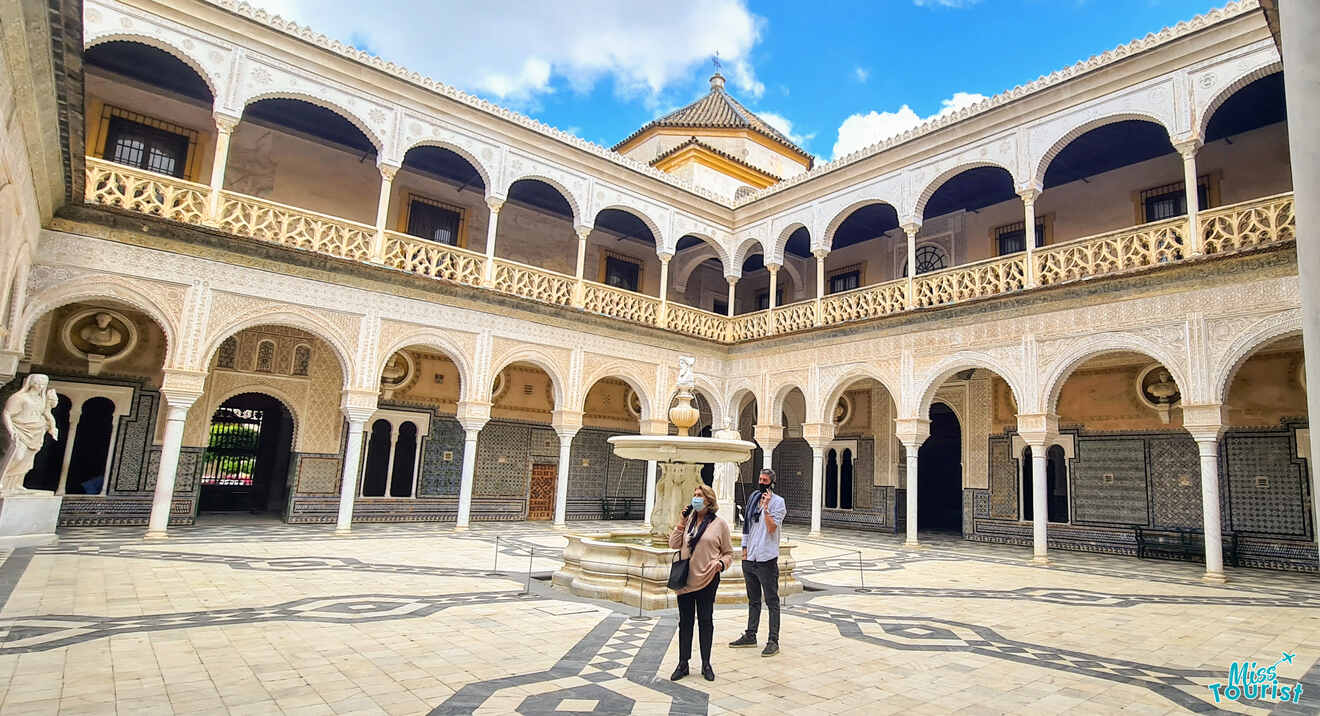 Casa De Pilatos is another must-stop during your visit to Seville! Casa de Pilatos is a palace from the 16th century. It features Italian Renaissance architecture with Mudejar motives and style.
In the palace, you can walk around the royal gardens and see the art pieces that live inside the building.
NOTE: the entrance allows you to see the house's first floor, and includes an audio guide.
PRICE: from €10 per person
Get a Casa de Pilatos ticket
3. Dive into contemporary art at CAAC
Stroll through the serene Monastery of Cartuja!
Did you know the CAAC is set in a historical monastery turned into the Contemporary Art Center it is today?
This cultural center features amazing exhibitions of contemporary art, mainly from Andalusian artists. Sometimes, they feature workshops and events open to the general public. You can check here upon your visit.
Apart from the extraordinary architecture and amazing art, you can see inside. The surrounding areas are stunning. There is a big garden behind the monastery where you can relax or have a picnic.
NOTE: you can only buy the entrance tickets at the ticket office, and you can only pay in cash.
PRICE: from €3 per person
Afternoon
1. Engage in a Spanish cooking class and visit Triana Market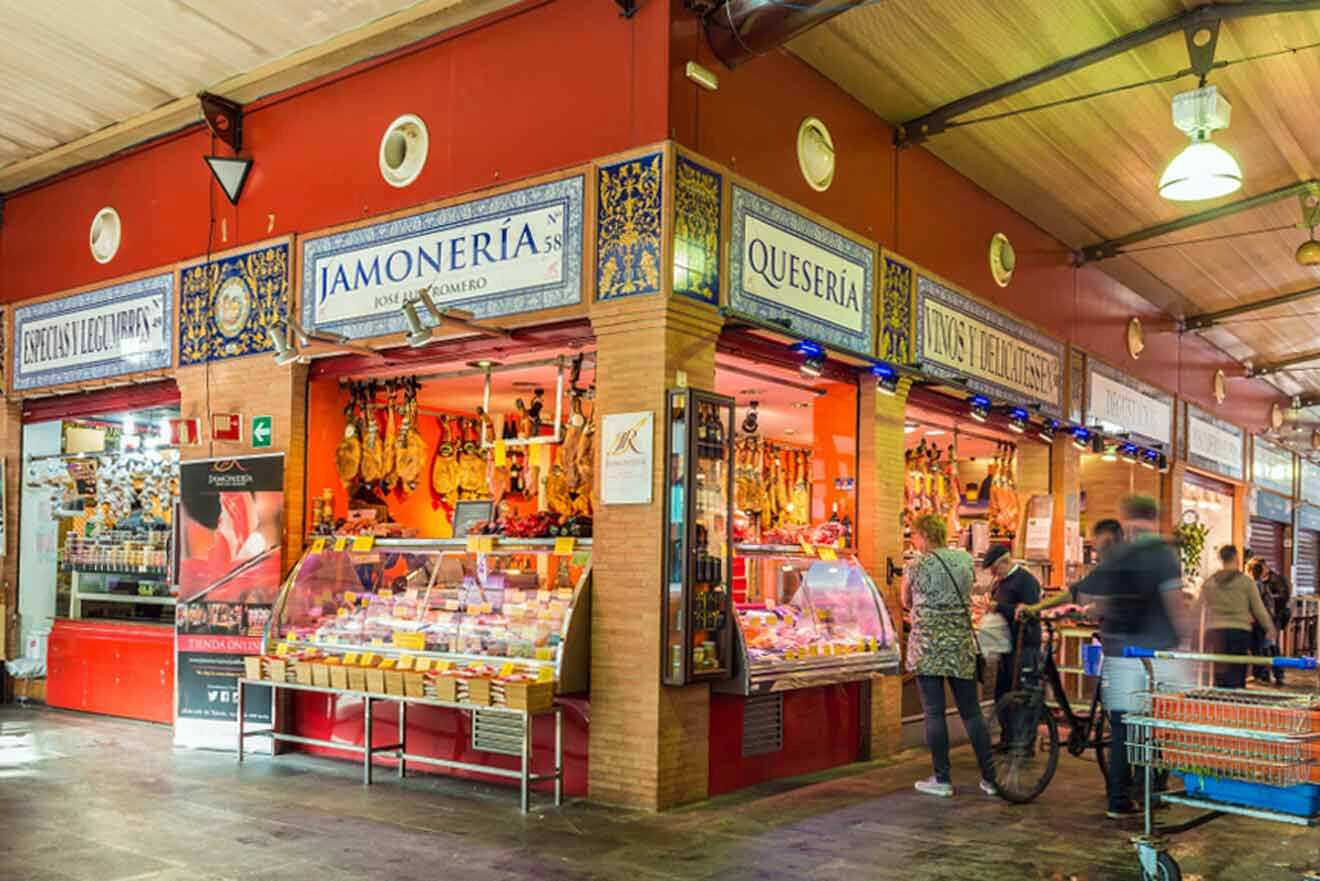 Relish Andalusian tapas in the Triana district!
And what better way to do it than with a cooking class! The class will take place at Mercado de Triana. Here, together with your guide and chef, you will purchase fresh produce you will be using for cooking!
Triana is the neighborhood where the famous Feria de Abril takes place!
You learn to make 5 different Spanish meals and drink sangria while cooking! Perfect combo!
PRICE: from €65 per person
Book your cooking class
2. Discover treasures at the Museo de Bellas Artes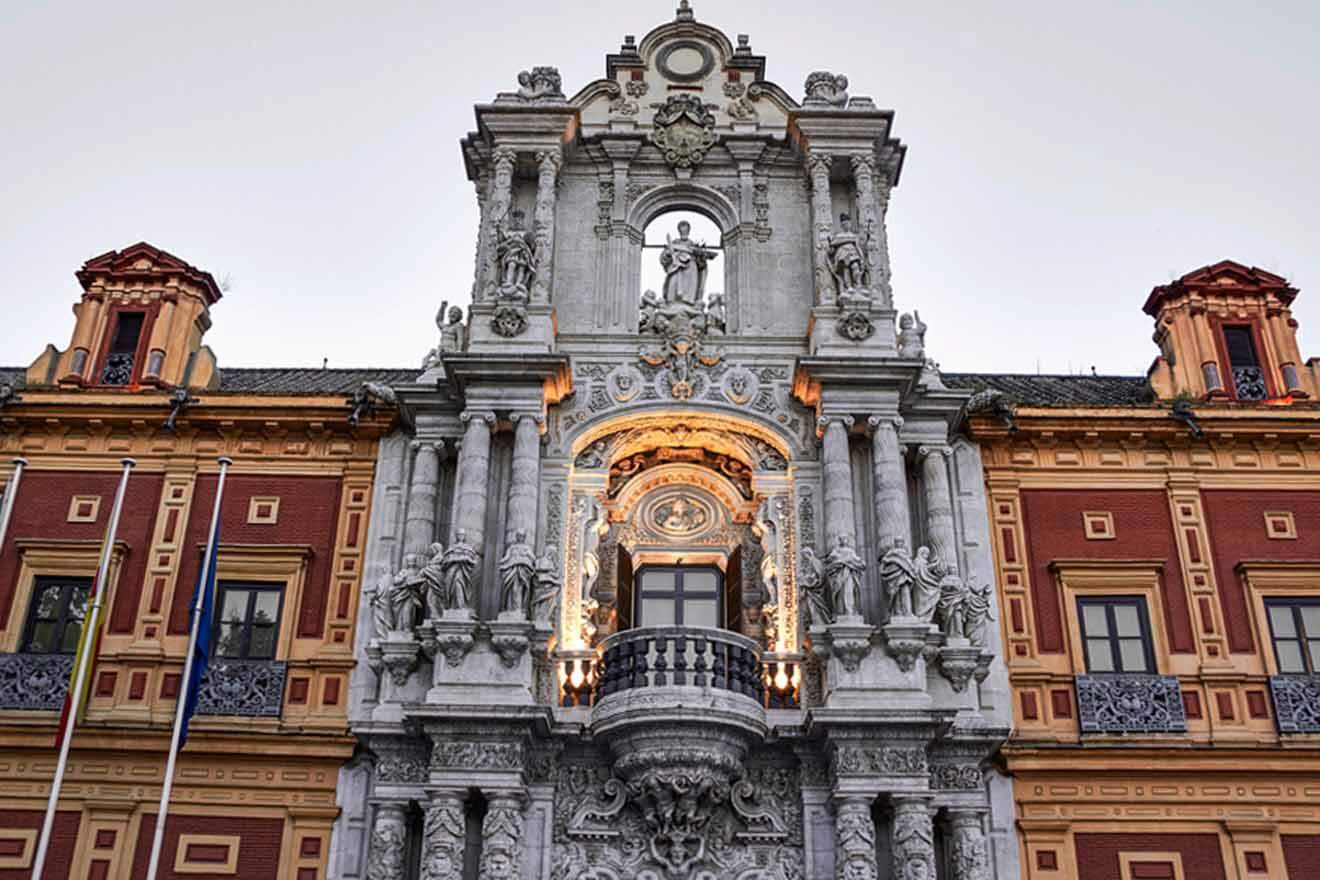 This Fine Arts Museum is located super close to the old town. The building is incredible and it was established in 1835. Here you can see collections of Spanish visual artists from the medieval times to the 20th century.
I highly recommend you book a guided tour of the museum. A historian will bring the art to life while sharing their deep knowledge about the subject, which will make the experience super memorable.
NOTE: You can only buy your entrance ticket at the ticket office, but if you want to book in advance, I recommend buying the guided tour!
PRICE: from €2 per person for the museum entrance from €12 per person for the guided tour.
Book your fine arts museum tour
3. Revel in the atmosphere of Alameda de Hércules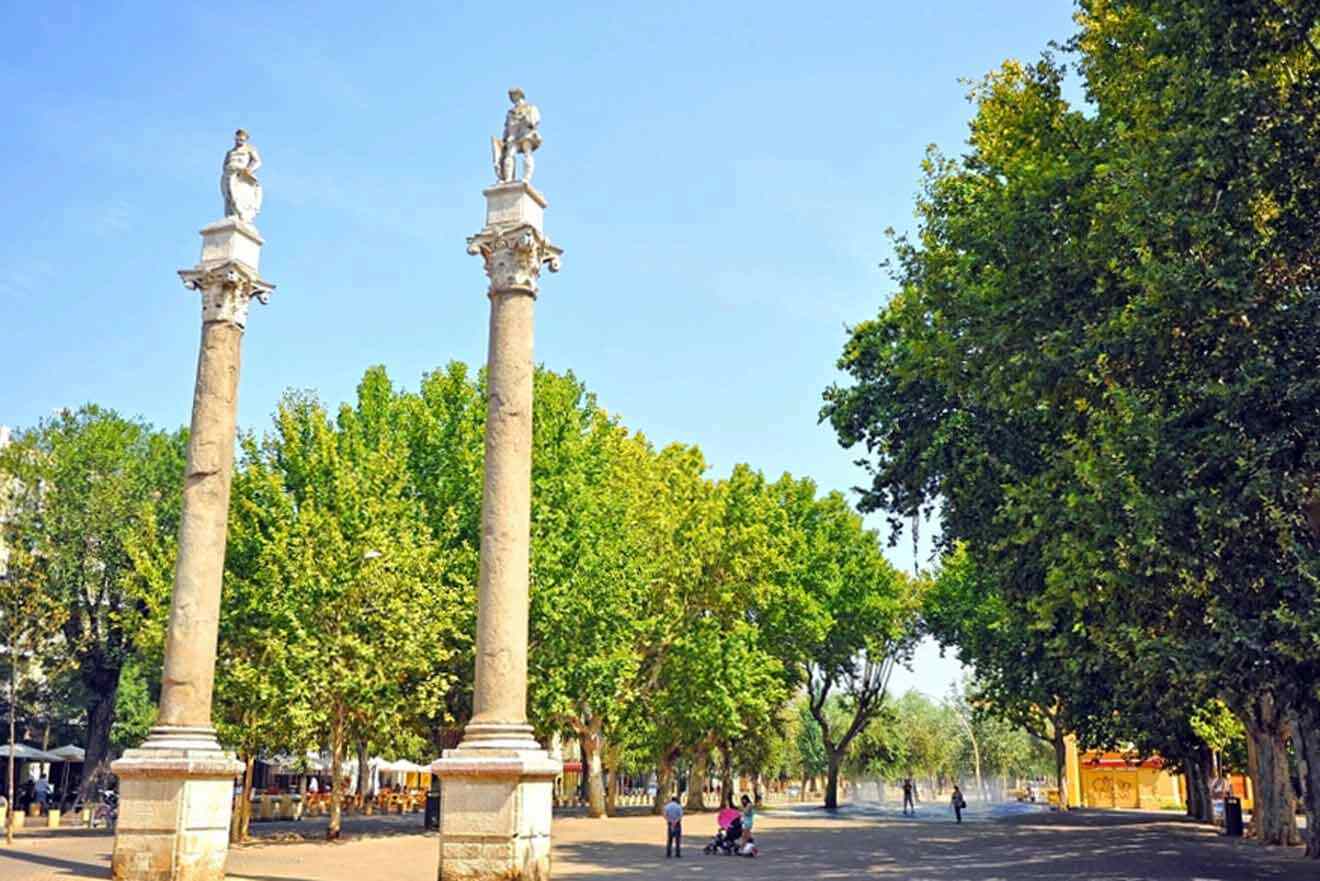 Dive into Andalusian culture at local taverns! Alameda is a big square surrounded by bars and restaurants. The terraces are open even in the wintertime, so if you're traveling then, don't forget to bring your big coat!
Did you know that Alameda de Hercules is one of the trendiest areas for nightlife in the city? And the locals' favorite!
End your 3-day trip on a high note! Go to the Alameda of Hércules and savor an ice-cold tinto de verano! Tinto de verano is the city's famous drink (it is not sangria, I know!), and you should definitely try it. It is red wine mixed with tonic, lemon, or orange soda.
| | |
| --- | --- |
| 🏛️ Best museum: | Museum of Fine Arts |
| 🎢 Top paid attraction: | Alcázar de Sevilla |
| 🚶🏽‍♂️ Best free activity: | Plaza de España |
| 👧 Best attraction for kids: | Cooking Class |
| 🕺 Nightlife: | Alameda de Hércules |
| 🥟 Must try food: | Spinach with Chickpeas |
BONUS: Best day trips from Seville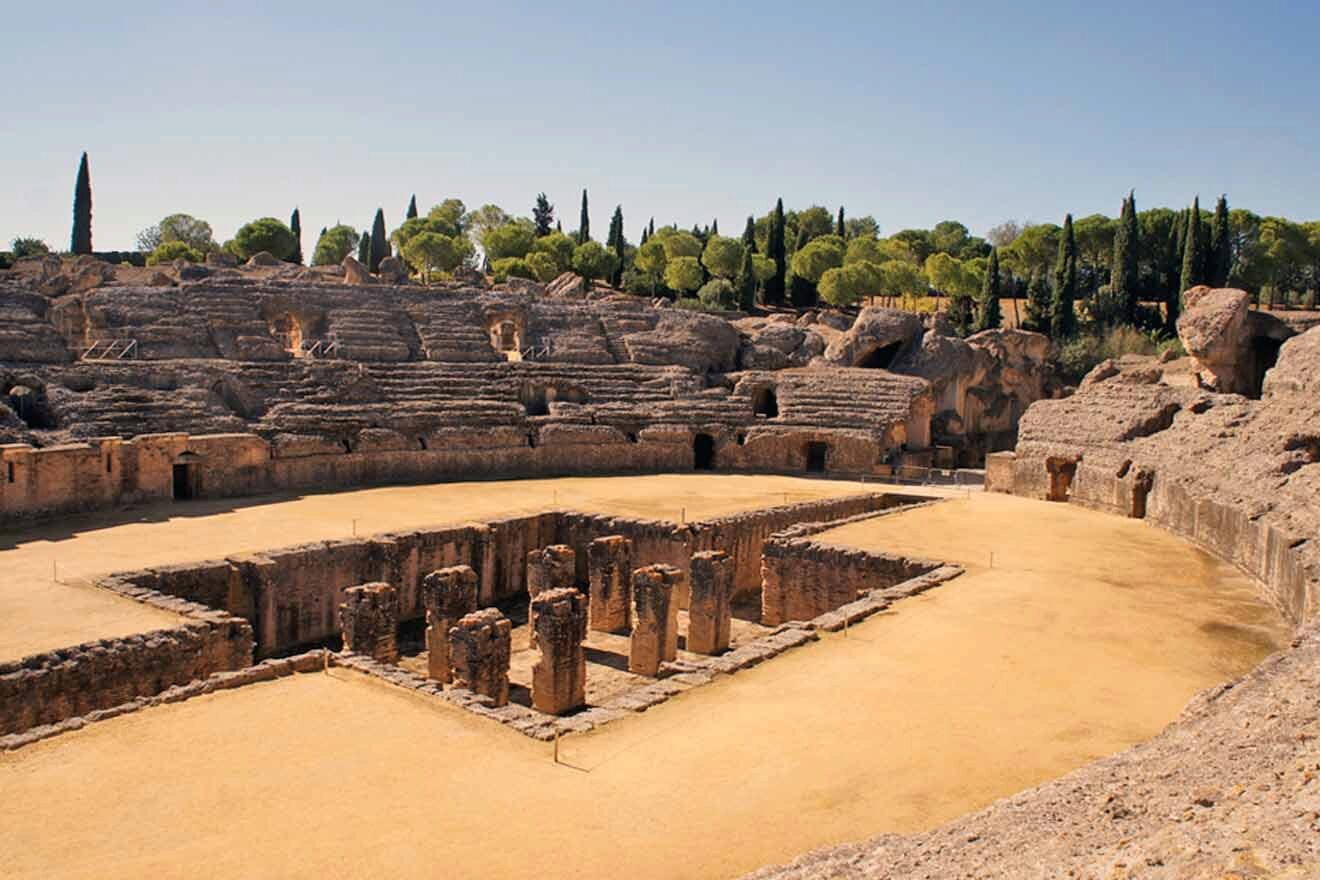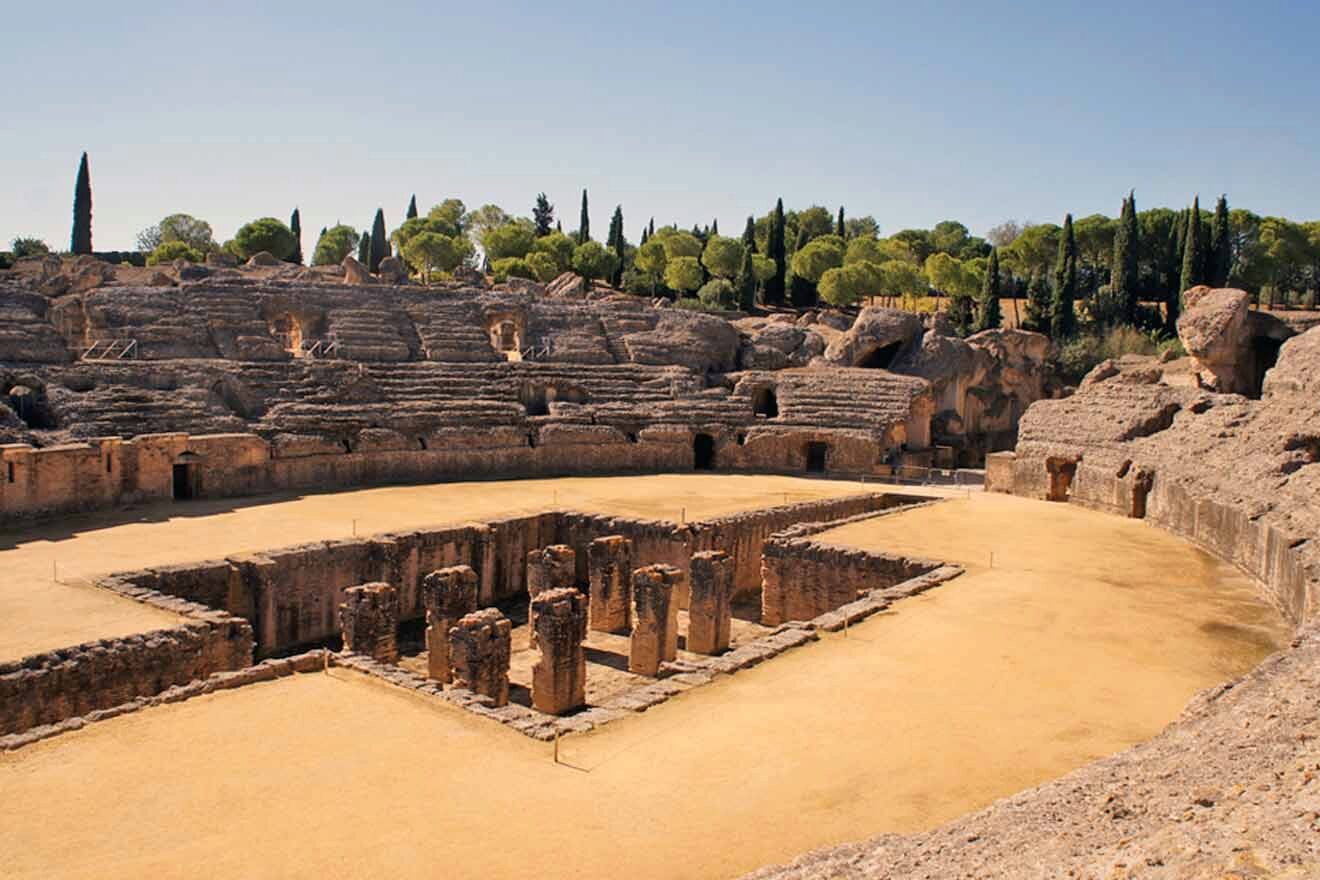 Itálica – Visit the Roman ruins at Itálica! The archaeological site is located quite close to Seville. It is one of the most preserved Roman ruins in the area and features a big amphitheater where "Game of Thrones" was filmed several times! It is known to be the birthplace of the emperors Trajan and Hadrian. This tour will take about 4 hours! (€39)
Ronda and White Villages – This tour will take you to 2 white villages, Zahara de la Tierra and Grazalema. The final stop will be the beautiful town of Ronda, where you can see the iconic bridge "Puente Nuevo." The tour lasts 10 hours and includes round-trip transportation to and from Seville. (€79)
Cádiz and Jerez – Want to get away from the Sevillian heat? Then a day trip to Cádiz and Jerez is what you need. First, you will stop in Jerez de la Frontera to see the city and a winery, and then spend the rest of the day in the beach city of Cadiz! This day tour is a great way to see 2 of the region's beautiful cities in a short time! (€99)
Córdoba and Carmona – This tour will briefly stop in Carmona and then take you to Córdoba. One of the most important cities in Andalusia. In Cordoba, you will see all the city's main landmarks by the hand of a knowledgeable guide. They will share with you all the historical facts about the city! (€99)
Where to stay in Seville
If you are still trying to figure out accommodation, I have 6 amazing options for all budgets!
If you want to learn more about the city's different neighborhoods, here you have the ultimate Seville area guide.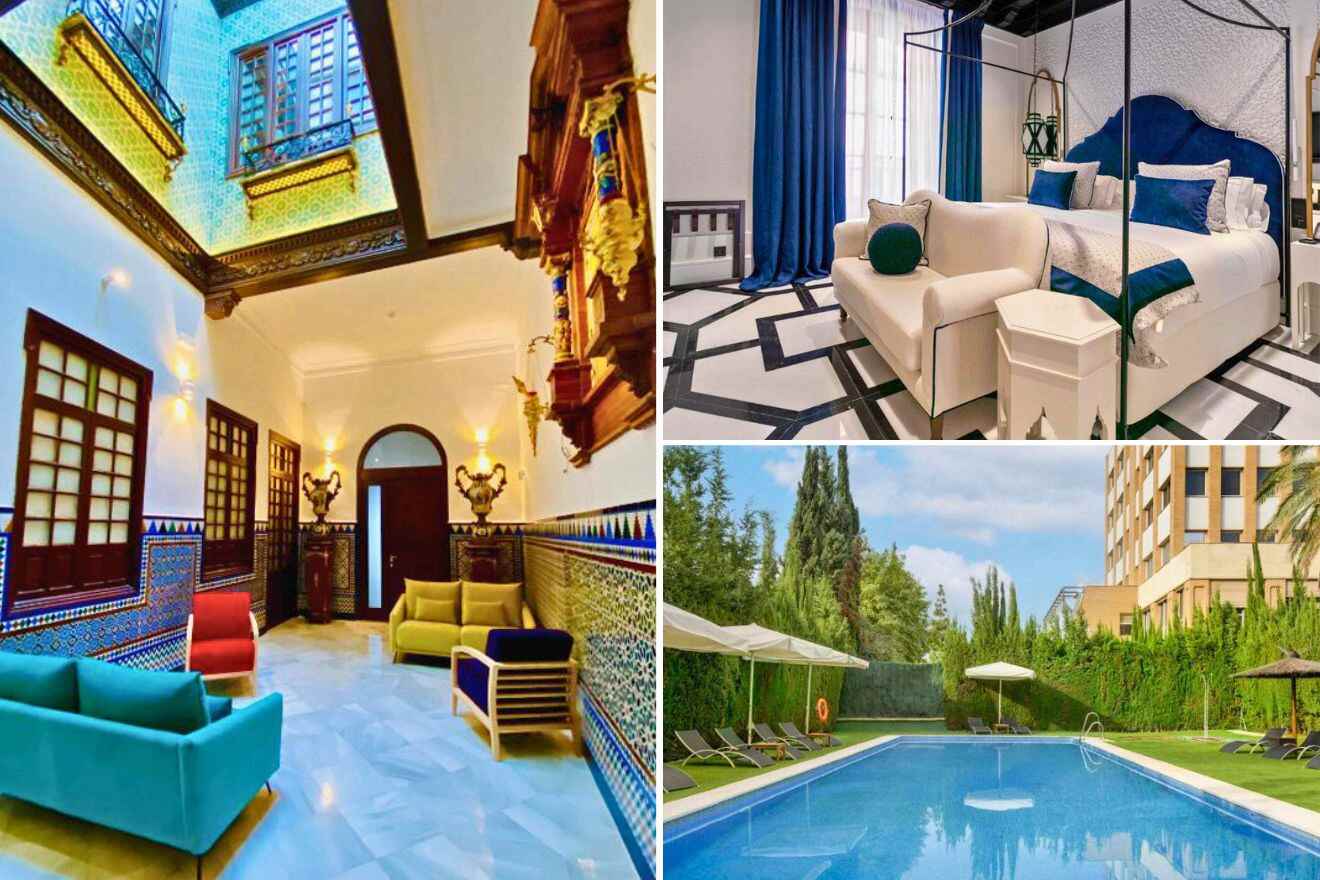 Luxury (€400 and up)
Hotel Casa Palacio Don Ramón – Oh la la! It looks like the palaces Dukes used to live in, truly beautiful! The hotel is in the old town and features a beautiful roof terrace with views and a swimming pool. The complimentary breakfast serves vegan, vegetarian, and halal options.
Cavalta Boutique Hotel – This place looks incredible. It is elegant and luxurious, with a delightful interior design. The hotel is located in Triana and features 2 restaurants and an onsite bar. And every morning, you can enjoy a free breakfast! It even comes with a rooftop swimming pool and a pool bar!
Mid range (€200 – €400)
Apartments "El escondite de Triana" – These Triana apartments will make you feel right at home! The hotel offers a tour desk and a bike rental service you can use for a fee. The apartments are super cozy and beautifully decorated, and most of them come with a private kitchen.
Hotel Giralda Center – This property is located in the area of Nervión and only a 10-minute walk away from the old town. The hotel looks super modern and trendy. It comes with a roof terrace with a pool and a fitness center. And if you wish, you can order room service and relax in the comfort of your room.
Budget (up to €200)
AC Hotel Sevilla – This hotel is located on the east side of Seville. It takes around 15 minutes to get to the city center by car. It comes with a cocktail bar and restaurant, plus a lovely garden with an outdoor swimming pool and a fitness center. Make sure you wake up on time for the free breakfast!
Hilton Garden Inn – Located in Macarena Norte, this hotel is a 10-minute drive away from the old town and the main attractions. The hotel comes with a tennis court, a fitness center, and an outdoor pool. The biggest rooms can host up to 5 guests.
Check the rates here
FAQs about spending 3 days in Seville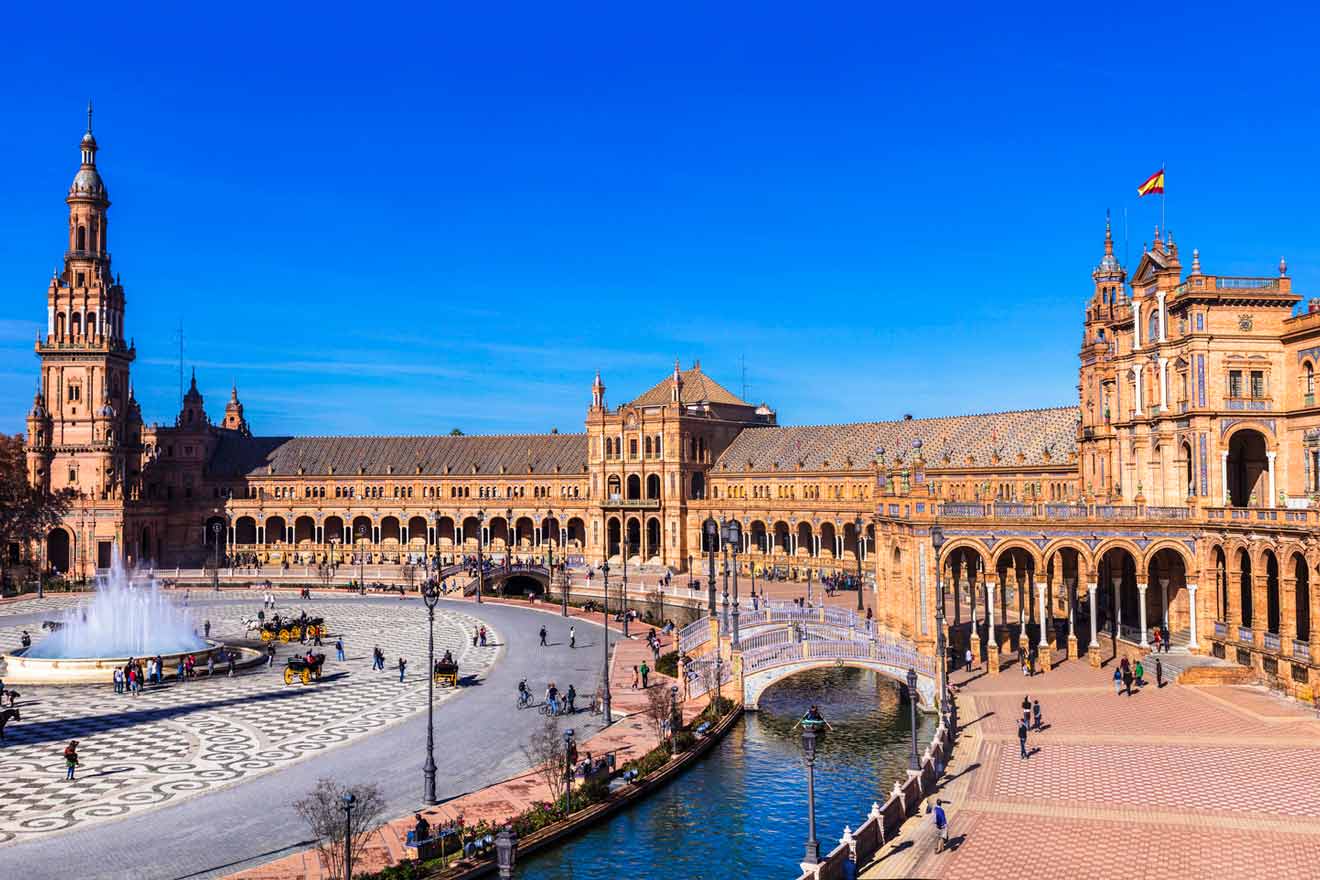 👛 What are the best things to do in Seville on a budget?
There are so many cool things to do in Seville, even for free, to save money! You can visit Plaza de España, the Torre del Oro, the Center of Andalusian Contemporary Art, and Triana Market!
📅 How many days do you need in Seville?
⛪ When is the Semana Santa procession?
Every year is different, but the processions usually occur in the last days of March and the first week of April.
🍇 What are the best local markets in Seville?
There are 2 amazing local markets I recommend visiting in Seville: Triana Market, and in the city center, you can dive into the vibrant Feria Market.
Conclusion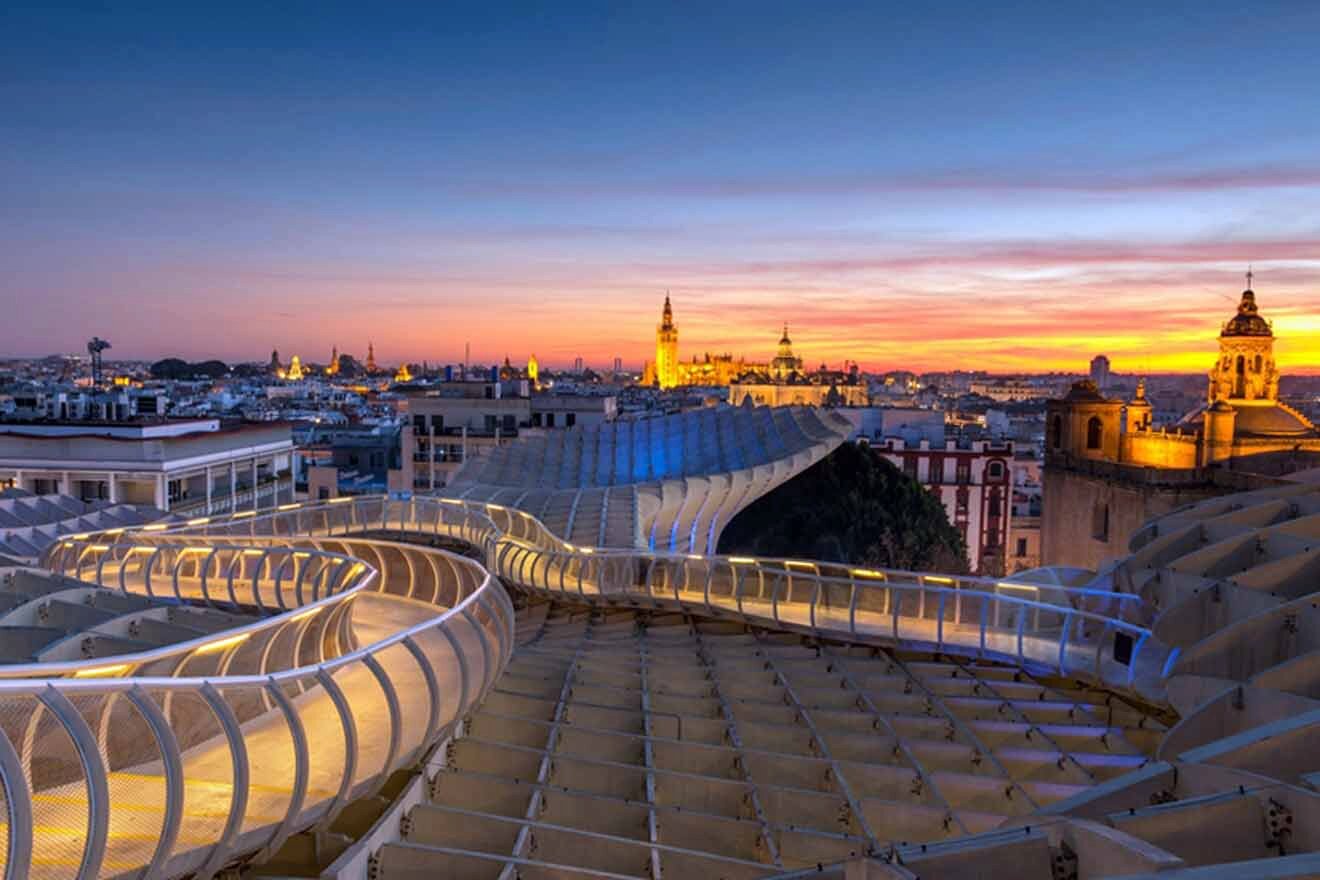 That is all for today, my sweet angels! That was the ultimate itinerary for a memorable trip of 3 days in Seville! I have covered a wide range of activities, plus some fun tours!
In the end, I added a nice bonus with 4 fun day tours to see more of Andalusia! And of course, I left a few accommodation options for your trip at the end of the article!
Which of these landmarks are you more excited to see in Seville? Let me know in the comments!
Until the next trip,
Daniela
---
Pin it for later!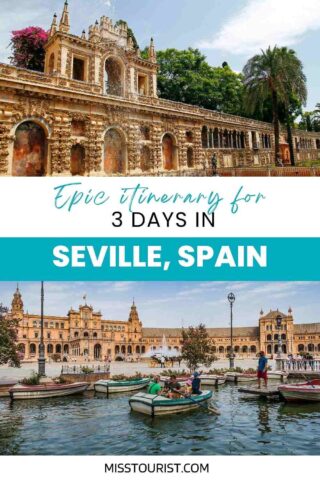 Pin it for later!